Curry-flavored chickpeas perched atop a bed of chutney-flavored grains (you can use either quinoa, bulgur, or couscous), making for an appealing grain-and-legume combination. Serve with a simply prepared vegetable — hardy greens, broccoli, or cauliflower — and a simple salad. Look for chutney in the international foods aisle of supermarkets or natural foods stores. Adapted from Vegan Express.
Serves: 4 to 6
1 ¼ cups raw bulgur, quinoa, or whole-grain couscous

15- to 16-ounce can chickpeas, drained and rinsed

3 medium vine-ripened tomatoes, diced

2 teaspoons good-quality curry powder, or to taste

½ teaspoon ground cumin

¼ teaspoon ground turmeric

Dried hot red pepper flakes or Sriracha sauce to taste, optional

Salt to taste (you may not need any if using above)

¼ cup minced fresh cilantro, or more, to taste

3 to 4 scallions, green parts only, thinly sliced

8- to  9-ounce jar sweet and pungent chutney (such as mango)
If using bulgur or quinoa, combine with 2 ½ cups water in a small saucepan. Bring to a rapid simmer, then cover and simmer gently for 15 minutes, or until the water is absorbed. If using couscous, place it in a heatproof container and cover with 2 ½ cups boiling water. Cover and let stand for 10 minutes, until the water is absorbed, then fluff with a fork.
Meanwhile, combine the chickpeas, tomatoes, curry powder, cumin, and turmeric in a small saucepan. Bring to a simmer, then cook gently for 5 minutes, until the tomatoes are wilted and the mixture is piping hot. Season with red pepper flakes or Sriracha if you'd like the chickpeas spicy! Cover until needed.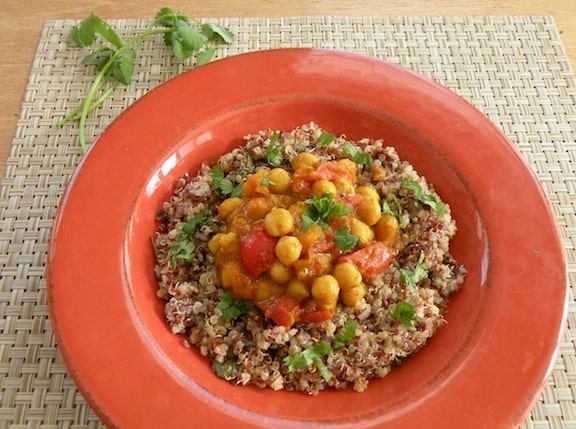 When the grain of your choice is done, stir the cilantro, scallions, and chutney into it.
To serve, mound a portion of the grain on each plate (or serve in a shallow bowl and top with a portion of the chickpea mixture. Garnish with additional cilantro, if desired, then serve at once.
Variation: Though it wouldn't be as pretty, brown or green lentils would make a nice substitute for the chickpeas.
Nutritional Information: 
Per Serving (with bulgur): 228 calories; 1.7g fat; 251.7mg sodium; 433.9mg potassium; 47.4g carbs; 10.5g fiber; 2.4g sugar; 8.6g protein