Peas and cashews lend a subtle sweetness to this curried potato dish. Once you've got the just-done potatoes ready, the rest of the dish comes together in no time. For an enticing meal, serve with Couscous Pilaf with Apple and Dried Fruits, and pass around a spicy chutney for a nice touch. Photos by Evan Atlas.
Serves: 4 to 6
6 medium-large red-skinned or golden potatoes,
scrubbed and cut into 1-inch chunks
1 ½ tablespoons olive oil
1 large onion, chopped
1 to 2 small fresh hot chili peppers, seeded and minced
2 teaspoons good-quality curry powder
1 teaspoon ground cumin
1 ½ cups thawed frozen green peas
1 tablespoon lemon or lime juice
2 to 3 big handfuls baby spinach or baby arugula
Salt to taste
¼ to ½ cup chopped toasted cashews for topping
Minced fresh cilantro for topping
Combine the potatoes with just enough water to cover in a large saucepan and cook over medium heat until just tender, about 10 minutes. Drain off any excess water.
Heat the oil in an extra-large skillet or steep-sided stir-fry pan. Add the onion and sauté over medium heat until golden. Add the chili pepper and sauté, stirring for another minute or two.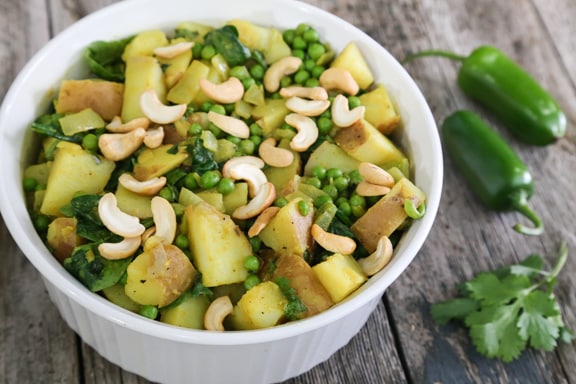 Add ½ cup of water to the skillet. Stir in the curry powder and cumin, followed by the potatoes, peas, and lemon or lime juice.
Cook over medium heat, stirring frequently, until all the ingredients are well heated through, about 5 to 8 minutes. The potatoes should be moist (but not soupy), so add a bit of additional water if needed.
Add the spinach or arugula and cover; cook until just wilted, then stir in. Season with salt. Scatter the cashews and cilantro over the top of the dish (or pass around to top individual portions), and serve at once.