My friends go crazy for Dilly Beans. I don't know if it's because they like the way they taste or because they like to say "dilly beans." In either case, here's the recipe. Make a bunch, because everybody wants to get her dilly on in the pickle season. Excerpted from Put 'em Up! A Comprehensive Home Preserving Guide for the Creative Cook, from Drying and Freezing, to Canning and Pickling,* © 2010 by Sherri Brooks Vinton, photography by Kevin Kennefick, used with permission from Storey Publishing.

Makes about 8 pints
4 pounds green beans, washed, topped, and tailed
6 garlic cloves, peeled and sliced
1 cup fresh dill weed
2 tablespoons dill seed
1 tablespoon black peppercorns
4 cups distilled white vinegar
2 cups water
¼ cup sugar
2 tablespoons salt
Cut beans into lengths 1 inch shorter than the pint jars. Pack the beans vertically in eight clean, hot jars, somewhat tightly. Divide the garlic, dill weed, dill seed, and peppercorns among the jars.
Combine the vinegar, water, sugar, and salt in a medium nonreactive saucepan, and bring to a boil. Pour the hot brine over the beans to cover by ½ inch. Leave ½ inch of headspace between the top of the liquid and the lid.
Can: Use the boiling-water method. Release trapped air. Wipe the rims clean; center lids on the jars and screw on jar bands. Process for 15 minutes. Turn off heat, remove canner lid, and let jars rest in the water for 5 minutes. Remove jars and set aside for 24 hours. Check seals, then store in a cool, dark place for up to 1 year.
Note: The boiling-water method is necessary to tenderize these cold-pack pickles.
Variation: Use a combination of green and yellow (wax) beans.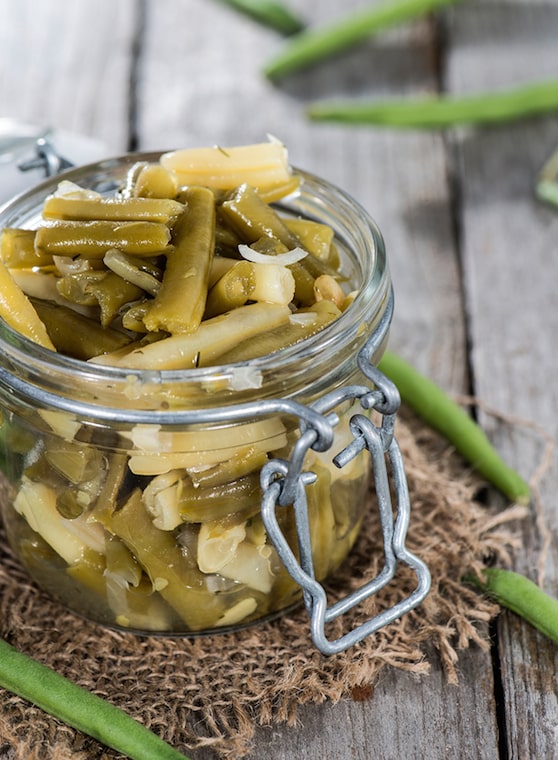 *This post contains affiliate links. If the product is purchased by linking through this review, VegKitchen receives a modest commission, which helps maintain our site and helps it to continue growing!