These pretty streusel-topped vegan chocolate chip muffins are not only delectable, but contain a dose of Vitamin C from fresh orange juice as well as concentrated orange juice. The concentrate also contributes sweetness as well as color. Photos by Rachael Braun.
Yield: 1 dozen
2 cups whole wheat pastry flour
¼ cup quick-cooking oats (oatmeal)
1 ½ teaspoons baking powder
1 teaspoon baking soda
½ cup orange juice (preferably fresh, with pulp)
¼ cup orange juice concentrate
½ cup vanilla nondairy yogurt or applesauce
1 tablespoon neutral vegetable oil (like safflower)
1 cup vegan chocolate chips, regular or mini-chips
¼ cup very finely chopped walnuts, optional
Streusel:
¼ cup quick-cooking oats (oatmeal)
2 tablespoons finely chopped walnuts
1 tablespoon unsweetened cocoa powder
1 tablespoon natural granulated sugar
1 teaspoon cinnamon
1 teaspoon neutral vegetable oil (like safflower)
Preheat the oven to 350 degrees F.
In a mixing bowl, combine the first 4 (dry) ingredients and stir together. In another bowl, combine the juice, concentrate, yogurt or applesauce, and oil and stir until blended.
Make a well in the center of the dry ingredients and pour in the wet mixture. Stir together until thoroughly combined, then stir in the chocolate chips and optional walnuts. Divide the batter evenly among 12 foil-lined muffin tins.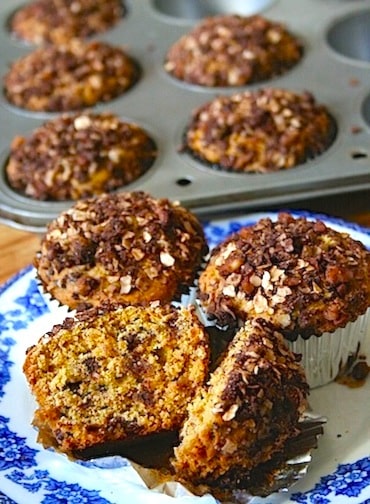 Combine the first 5 ingredients for the streusel in a small mixing bowl. Drizzle in the oil, then stir together until the dry ingredients are evenly moistened. Sprinkle the streusel evenly over the muffins.
Bake for 25 to 30 minutes, or until a toothpick inserted into the center of a muffin tests clean. When cool enough to handle, transfer the muffins to a plate or rack to cool. Serve warm or at room temperature.