This is the easiest Asian slaw recipe ever, since it requires a bare minimum of chopping (just the fresh herb!), and starts with pre-cut fresh vegetables. You can also shortcut your way to a flavorful dressing by using a good bottled brand of sesame-ginger, but if you want to make your own, by all means! This simple salad adds color and crunch to Asian-style meals, of course, but honestly, it goes with so many other dishes, like sandwiches, veggie burgers, wraps, soups, and more.
2 cups pre-grated coleslaw cabbage

1 cup pre-grated carrots

1 can cut baby corn, drained

Several sprigs cilantro leaves, chopped, or 2 scallions, sliced

Sesame-ginger dressing (bottled or homemade), as needed

Freshly ground pepper to taste

Pumpkin or sunflower seeds for topping, as desired, optional
1  Combine the coleslaw, carrots, baby corn, and cilantro in a serving bowl and stir together.
2  Add dressing as desired — be generous, but don't drown it — and grind in some fresh pepper. Stir again. If time allows, let the slaw stand for a half hour or so to allow flavors to blend. But if time is of the essence, no worries — it's good right away!
3  Sprinkle optional pumpkin or sunflower seeds over the top before serving.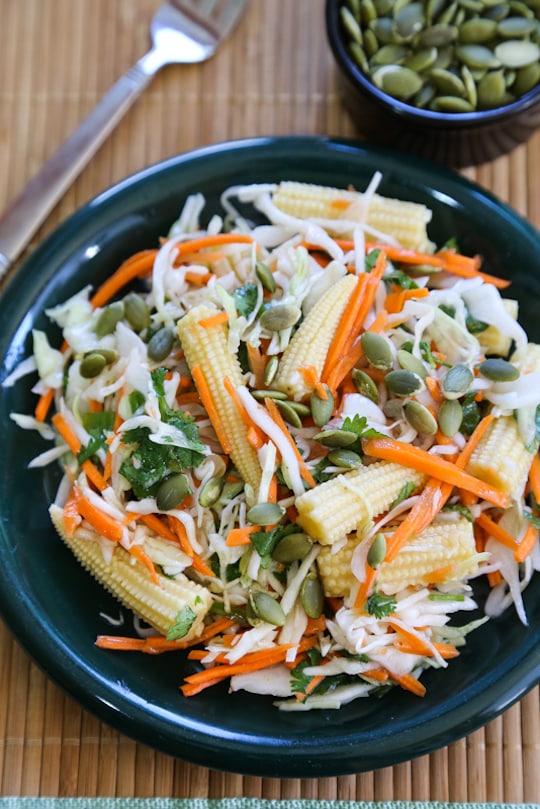 Photos: Evan Atlas