World's Easiest Peanut Satay Noodles is one of our favorite Shameless Shortcut Recipes, so we've worked it up into a full dinner that's as easy as it is festive.
Central to this dinner hack is using good bottled Thai peanut satay sauce which ideally will contain all the exotic ingredients that would be a pain to find and use individually — tamarind sauce, lemongrass, red chili, and more. Some peanut satay sauce brands include A Taste of Thai, and Thai Kitchen; look for them in your supermarket's Asian foods section.
To complete this easy meal, add readymade vegetable dumplings (or alternatively, spring rolls) and pre-grated carrots dressed in sesame-ginger dressing.
Serves: 3 to 4
Time to table: 20 to 25 minutes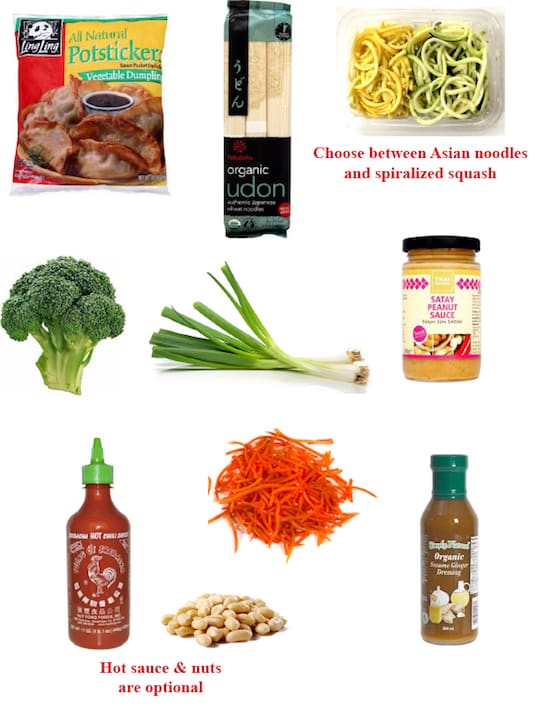 What you need
Frozen vegetable dumplings (or veggie spring rolls)

8-ounce package soba or udon noodles (you can also use regular linguine
or spiralized zucchini "noodles")

1 large broccoli crown (or one package precut broccoli, or 16-ounce bag frozen broccoli florets

8- to 12-ounce bottle or jar Thai peanut satay sauce

1 bunch scallion (you'll be using 2 or 3)

Hot stuff like sriracha or dried red pepper flakes, optional

A small amount of roasted nuts (peanuts or cashews) optional

16-ounce bag grated carrots

Sesame-ginger salad dressing (or similar)
What to do
1 Start preparing the dumplings (or spring rolls) according to package directions.
2 For the satay noodles, if you want to follow a more formal recipe, link here. Or, for a more relaxed approach, stay on this page! Cook the noodles according to package directions (or, if using spiralized squash, it can remain uncooked; place in a mixing bowl).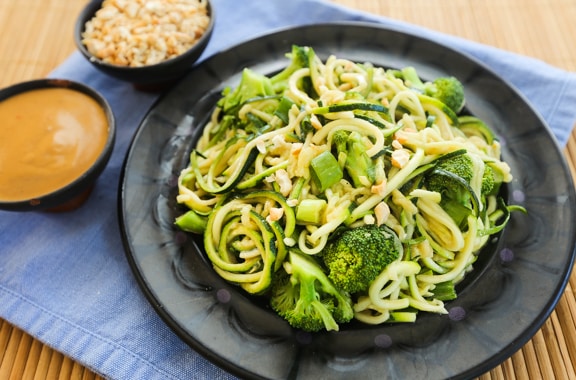 3 Cut the broccoli into small florets if using a whole crown. Cut 2 or 3 scallions thinly.
4 If using noodles, when they're just about done, plunge the cut broccoli and scallions into the simmering water and cook just until the broccoli turns bright green. This will take less than a minute. Then, drain and transfer to a serving bowl.
4a  Or, if using spiralized squash, steam whatever kind of broccoli you're using in a skillet with a little water until bright green. Add the scallions at the last minute; then drain and transfer to the serving bowl with the squash.
5 Add as much peanut satay sauce as you'd like to the noodle and broccoli mixture, and stir to combine. Add hot stuff to taste, or pass it around so that everyone can spice up their own.
6  Combine the grated carrots with sesame-ginger dressing in a serving bowl.
7 Serve the satay noodles with the dumplings (or spring rolls) and the carrots. Pass around nuts for (chop or leave whole) for topping, if you'd like.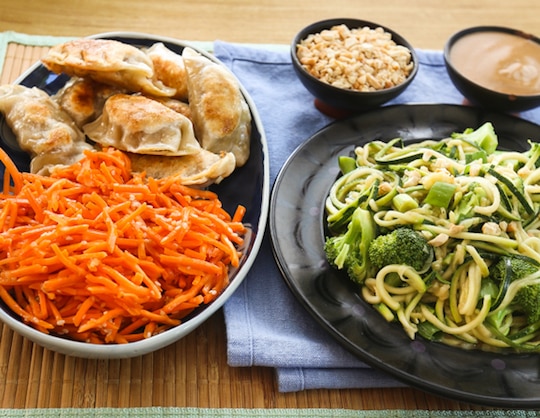 Photos: Evan Atlas