If you love the idea of a homemade fruit dessert but aren't much of a baker, you'll appreciate this incredibly easy skillet blueberry crumble. No fruit to pit and cut, no crust to labor over — just a few key ingredients and you've got a blissful summer dessert. It's especially delicious served over nondairy ice cream. We chose a pecan praline for these photos, and it was a perfect fit!
This is also a nice choice when you have company coming for a meal and worry that you might not have the time or patience to make dessert after all other preparations — so no worries, this quick dessert requires neither time nor patience, but still impresses.
Serves: 4
1 pint blueberries

2 tablespoons maple syrup, or to taste

1 teaspoon arrowroot or cornstarch, if needed

¾ to 1 cup granola (see note)

Another fresh fruit for topping, optional

Nondairy ice cream
1  Rinse the blueberries and place in a medium skillet. Cook over medium heat just until they start to burst and become juicy. Add maple syrup to taste.
2  Remove from the heat and stir. If the mixture has become too liquid (which can happen if you leave the berries on the heat for just a few seconds too long), mix arrowroot or cornstarch with just enough water  in a small glass or cup; return berries to heat and drizzle in. Cook just until the liquid thickens.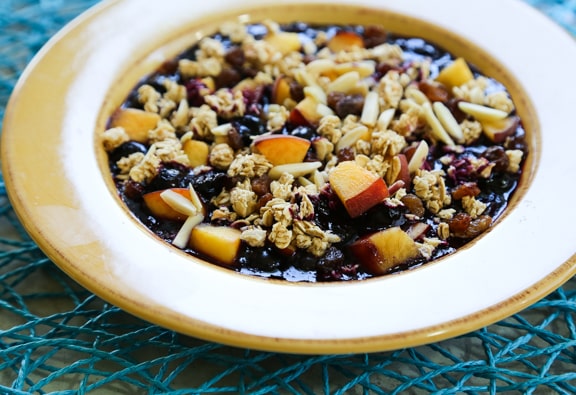 3  Transfer the blueberries to a shallow serving bowl, or leave in the skillet. Top with granola as desired.
4  Since this dessert is more yummy than it is pretty, you can cut up a peach or a few strawberries to scatter over the top to give it more color.
5  Serve at once over nondairy ice cream
Note: Use a variety of granola that has a nice blend of oats, nuts, and dried fruit.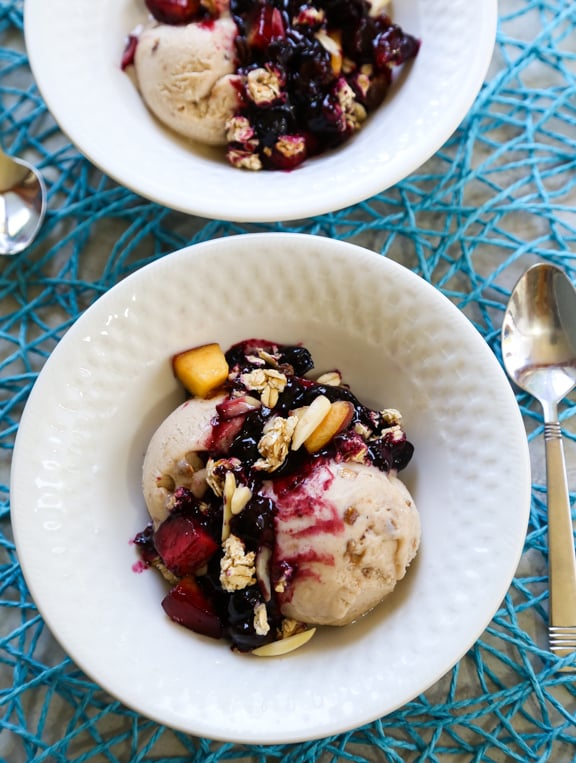 Photos by Evan Atlas