Whether you enjoy this vegan batter-dipped cauliflower as a simple side dish or a veggie-based snack, you'll find them completely addictive! And because we're all about easy here at Vegan Food Hacks, we start with a bag of frozen cauliflower. Kids and adults — even picky ones — often approve of cauliflower. And what about the egg batter usually used to make this kind of recipe? A chickpea flour batter is the perfect swap.
Fresh cauliflower is great, but sometimes you don't feel like dealing with the mess required to chop it down into cute little florets. No worries, frozen cauliflower may not be as good as fresh, but it does retain most of the nutrients, and is already in perfect-sized pieces for this recipe.
Serves: 2 to 4
16-ounce bag frozen cauliflower florets, thawed

⅓ cup garbanzo (chickpea) flour

¼ cup water

½ teaspoon herb-and-spice seasoning blend (like Frontier or Mrs. Dash)

½ teaspoon sea salt (see Note)

Freshly ground pepper

Olive or other oil for sautéing
Optional condiments & flavorings
Dried hot red pepper flakes

Ketchup, sriracha, sweet chili marinade, or marinara sauce
1  In a mixing bowl, combine the garbanzo flour with the water, seasoning blend, salt, and a few grindings of pepper. Whisk together until smoothly blended. This should be a very thick batter so it won't run off the cauliflower, but if need be, add a bit more water.
2  Add the cauliflower to the batter and stir together until completely coated.
3  Heat enough oil to coat the bottom of a wide non-stick skillet. When nice and hot, add the cauliflower in a single layer (do in two batches if your skillet isn't hot enough. Sauté over medium-high heat until golden brown most sides.
4  Serve hot or at room temperature. Sprinkle with dried hot red pepper flakes if you'd like, and/or serve with a favorite condiment.
Note: You can also use kala namak — Indian black salt — which will give the batter a more eggy flavor and aroma.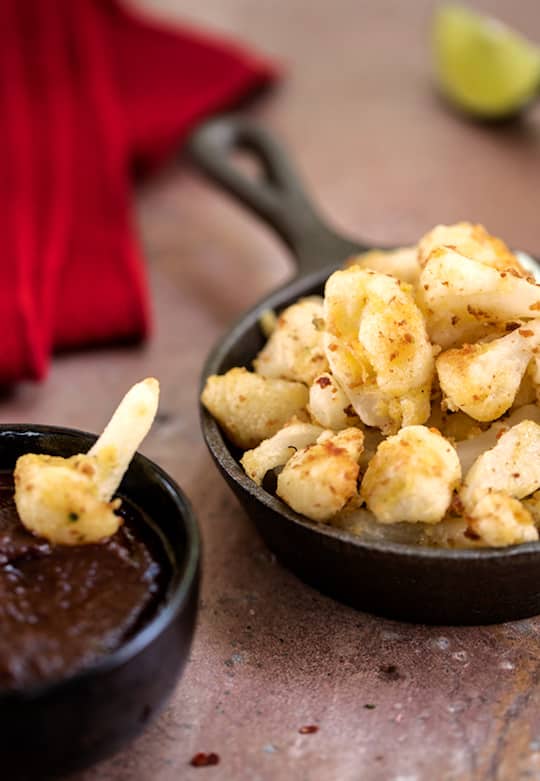 Photos: Hannah Kaminsky