To chill or not to chill: that is the question. While it's true that succotash is delightful served warm, I've always enjoyed it served cold as a refreshing salad from summer through late fall. For me, it offers the brightest taste of the season, bursting with the crisp, sweet splendor of fresh, raw corn kernels. Recipe and photo reprinted by permission from The Veggie-Lover's Sriracha Cookbook, ©2013 by Randy Clemens. Published by Ten Speed Press, a division of Random House, Inc.
Serves: 4 to 6
2 tablespoons toasted sesame oil or extra-virgin olive oil
1 medium red onion, diced
1 medium red bell pepper, diced
3 cloves garlic, minced
2 cups fresh or frozen shelled edamame
Salt and freshly ground black pepper
2 cups fresh or frozen thawed corn kernels
2 Roma tomatoes, diced
¼ cup Sriracha
¼ cup chopped fresh cilantro or parsley, plus more sprigs for garnish
2 tablespoons apple cider vinegar or freshly squeezed lime juice
1 tablespoon Bragg liquid aminos or low-sodium soy sauce
Heat 1 tablespoon of the oil in a cast-iron or nonstick skillet over medium heat. Add the onion and bell pepper and sauté until softened, 5 to 7 minutes. Add the garlic and sauté just until fragrant, about 30 seconds. Let cool to room temperature.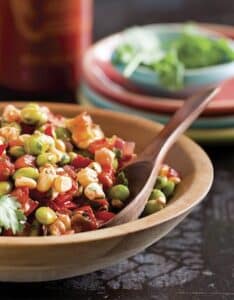 In a medium saucepan, bring ½ inch of water to a simmer over medium heat. Add the edamame and season lightly with salt and pepper. Cover and cook until just tender and heated through, about 4 minutes. Drain well and let cool to room temperature. (If using frozen edamame, cook on the stove top according to the package directions; don't microwave.) Transfer to a bowl.
Add the onion mixture, corn, tomatoes, Sriracha, cilantro, vinegar, liquid aminos, and remaining tablespoon of oil and mix well. Season with salt and pepper to taste.
Cover and refrigerate for at least 30 minutes. Taste just before serving and add more vinegar or Sriracha if desired. Serve garnished with cilantro sprigs. Stored in the refrigerator, leftovers will keep for 3 days.