This recipe for Extra Tasty Mashed Potatoes with Peas provides a terrific alternative to the classic mashed potatoes with peas on the side—eliminating having to chase peas around the plate. Leftovers, if there are any, are good in other recipes such as Potato Balls, Dave's Stuffed Mushrooms, or they can be fried for breakfast. Excerpted from Dating Vegans: Recipes for Relationships* by Anne Dinshah. Published by American Vegan Society, ©2012. Reprinted by permission. Photos by Evan Atlas.

Extra Tasty Mashed Potatoes with Peas
Makes: 8 cups
Ingredients
6 large white potatoes, peeled and chopped
1 sweet potato, peeled and chopped
1 small or medium yellow onion, finely chopped
8 oz white or portobello mushrooms, sliced
2 tbsp vegan buttery spread (such as Earth Balance)
1 ½ cups frozen peas, thawed
½ cup unsweetened nondairy milk
salt and freshly ground pepper, to taste
Instructions
Place the white potatoes and sweet potato in a large saucepan, add 2 cups water, and bring to a  boil over high heat. Cover, reduce the heat, and simmer for 30 minutes, or until the potatoes are tender and a knife can slide in easily. Drain the potatoes, saving the cooking water, and place the potatoes in a large bowl.
While the potatoes are cooking, place the vegan buttery spread in a large skillet over medium-high heat. Add the onion and cook, stirring occasionally, 5 minutes, or until the onion begins to become translucent.
Add the mushrooms and peas to the pan; stir and cook 2 additional minutes.
Mash the potatoes. Add the nondairy milk and mix well. Gradually add some of the reserved cooking water if creamier mashed potatoes are desired.
Add the vegetable mixture, season with salt and pepper, and serve.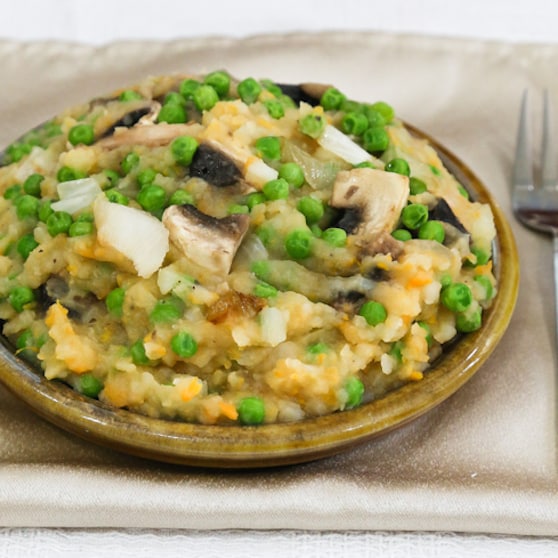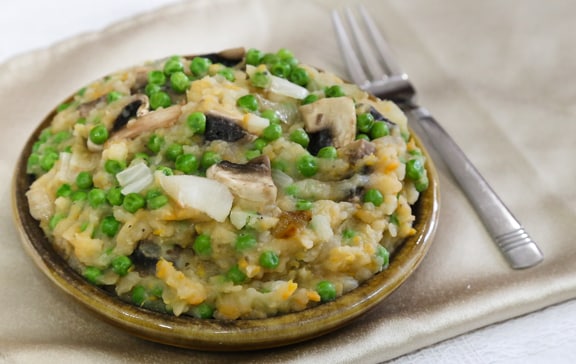 Anne Dinshah is a lifetime vegan and author of Apples, Bean Dip, and Carrot Cake: Kids! Teach Yourself to Cook*(co-authored with Freya Dinshah), and Healthy Hearty Helpings,* a vegan cookbook for busy people who wish to eat well. She coauthored Maribeth Abrams' cookbook The 4-Ingredient Vegan. Visit the web site for more information on the American Vegan Society.
*This post contains affiliate links. If the product is purchased by linking through this review, VegKitchen receives a modest commission, which helps maintain our site and helps it to continue growing!