Are you ready to try a deliciously different grain? Farro, a longstanding favorite in Italian cuisine has made quite a comeback. A hardy, whole variety of wheat, it has a great flavor and is a nice alternative to brown rice. Soaking farro overnight (or all day) makes it cook up quicker and creamier. This Farrotto is a heartier, whole grain cousin to risotto. Recipe and photo contributed by Ellen Kanner.
Serves: 6
1 head broccoli, chopped into bite-sized pieces,
both florets and peeled stems
2 cups raw farro
4 teaspoons olive oil
3 cloves garlic, minced
1 dried red pepper, crumbled, or a pinch or two of red pepper flakes
5 or 6 sun-dried tomatoes, packed in oil (about ¼ cup), chopped
4-½ cups vegetable broth
½ cup white wine
Sea salt and fresh ground pepper
2 tablespoons nutritional yeast (optional, but adds a nice cheesy note)
1 bunch fresh basil, torn or shredded
Pour farro into a sieve or strainer. Rinse with cold water and drain. Pour into a bowl and cover with cold water. Leave for 6 or 8 hours (or overnight).
In a large pot, steam broccoli until barely tender and still bright and happy green, about 8 minutes.  Set aside.
Empty the pot and you can use it to cook the farro. Heat oil over medium high heat. Add the garlic and red pepper. Cook, stirring occasionally, until they sizzle and turn fragrant, a few minutes.
Add the farro and stir, letting the grains toast and get a nice gloss from the oil. Pour in the vegetable broth, stir in the sun-dried tomatoes and bring to a boil.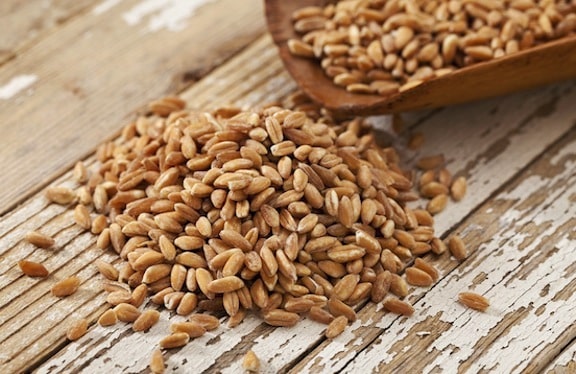 Cover and reduce heat to low.  Simmer for about 15 minutes, then add the wine and stir. Cover for another 15 minutes or until the farro has grown nice and plump and creamy, absorbing most of the liquid.
Gently stir in the basil and season with sea salt, pepper, and nutritional yeast, if you're adding. Add broccoli just at the end to heat through. Keeps covered and refrigerated for several days.  Reheat just before serving.
Ellen Kanner writes the Meatless Monday column for The Huffingon Post, is the Edgy Veggie, a syndicated columnist, and Dinner Guest blogger on Culinate. She is also a contributor to Bon Appetit, Relish, Eating Well, Vegetarian Times, More, the Miami Herald and regional publications across the country.