Carbonara refers to a pasta dish made with bacon. To make this dish vegan, a bacon substitute in the form of smoky tempeh is used to augment this Italian classic. It's made even tastier with lots of broccoli, and some optional asparagus. Photos by Evan Atlas.
Serves: 6 or more
12-ounce package fettuccine, preferably whole grain
(or you can substitute whole-grain spaghetti)
2 tablespoons extra-virgin olive oil
6- to 8-ounce package tempeh bacon (or use regular tempeh to
make your own easy sweet and smoky tofu or tempeh strips)
4 to 5 cups finely chopped broccoli florets
8 to 10 asparagus spears (peel woody bottom halves if need be;
not necessary if slender), cut into 1- to 2-inch pieces, optional
3 to 4 cloves garlic, minced
⅓ cup dry white wine (or substitute vegetable broth)
¼ cup chopped fresh parsley, or more, to taste
Salt and freshly ground pepper to taste
Dried hot red pepper flakes to taste
Cook the fettuccine in plenty of rapidly simmering water until al dente, then drain. Reserve about ½ cup of the cooking water.
Meanwhile, heat half of the oil in a wide skillet. Sauté the bacon strips over medium heat until crisp and browned on both sides, then remove and cut into small pieces about ½ inch or so long.
In the same skillet, combine the broccoli, garlic, and wine. Cover and steam until the broccoli is bright green and tender-crisp. Remove from the heat.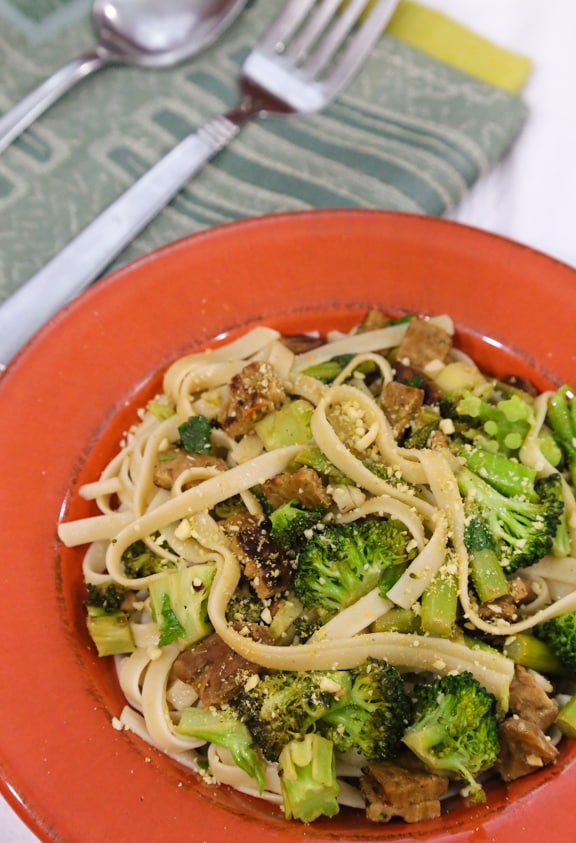 In a serving bowl, combine the cooked fettucine, tempeh bacon, broccoli mixture (with any remaining liquid from the pan) with the remaining oil and the rest of the ingredients. Toss well. If the dish needs more moisture, add a small amount of the reserved pasta cooking water.
Serve at once. Pass around Parmesan-Style "Cheese" for topping individual servings, if you'd like.