Most people come to VegKitchen to grab a recipe or two to make at home, and we try to make it as easy to do just that. Presumably, VegKitchen readers love to cook, while others just plain don't like to (though they come to the site for tips on living more healthfully). In this same household, I've manage to raise kids of both varieties. My son is an excellent cook; my daughter doesn't own a single pan. She not only can't be bothered, she also struggles with a poor appetite.
So when Fresh n' Lean, a fresh organic meal delivery service asked if I'd review their product on behalf of VegKitchen, I jumped at the chance to have my daughter test their meals out, as she seems like their target demographic. They delivered a sample array of five dinners and two breakfasts to her doorstep, and at the same time, I received three dinners and two breakfasts to try. Here are some facts about Fresh n' Lean meal plans to consider:
The meals are made of fresh, organic, and plant-based ingredients, shipped in a chilled insulated box.
Average meal cost is about $9 (their weekly meal plan breaks down to $27.99 per day)
Packaging materials are recyclable.
Meal plans are filling and nutrient-rich.
You can select a weekly meal plan or order "a la carte."
When considering what this meal delivery service offers, learn as much as possible by reading Fresh n' Lean's FAQ page.
If you're intrigued and would like to try the plan, Fresh n' Lean is offering a 15% discount to VegKitchen readers. Simply add the coupon code VEGKITCHEN to your order (this includes free shipping.
Here are our observations:
Alice enjoyed her meals, which seemed just right for her modest appetite. The dinners she received included: Artichoke Spanish Rice, Middle Eastern Spiced Lentils & Dino Kale; Summer Cannellini Bean Pasta, and others. Breakfasts were Raspberry Poppy Seed Muffin, and Tropical Coconut Chia. Since she's not one to wax poetic about food, she reported feeling satisfied and satiated with these meals, and liked the convenience of being able to microwave them in the containers they came (as well as eat out of them). You can also warm them on the stovetop or in the oven if you avoid microwaving.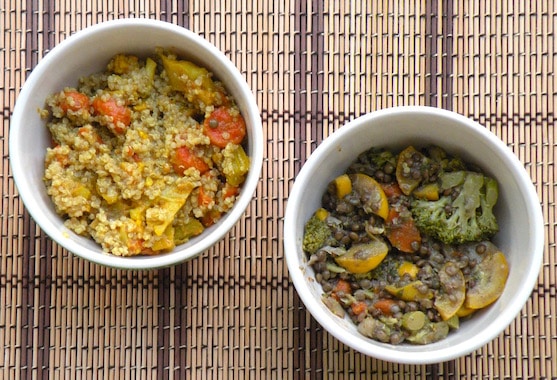 The meals I received included Eggplant Quinoa Curry, Coconut Squash & French Lentils, and Smoked Pinto Beans with Cumin Carrots. Breakfasts were Cinnamon Date Oatmeal and Hearty Granola. Here, in my opinion, were the pros and cons:
PROS
I was impressed by how flavorful the offerings were. They needed no "doctoring up," as premade meals often do.
The meals, based as they are on grains, legumes, and veggies, were quite filling considered the moderate calorie count.
The protein and fiber count of the individual entrees are impressive. For example, the Eggplant and Quinoa Curry at 376 calories, contains 23g protein and 10g fiber.
The breakfast offerings were very tasty. I'm not an oatmeal person, but I did taste it before passing it along to my husband (who does like oatmeal) and was impressed. The Hearty Granola is terrific. We actually ate it as a dessert with raisins mixed in.
CONS
The meals don't look very appealing in their containers, but they do present nicely once transferred to plates or bowls.
There don't seem to be any raw salads or much of any raw ingredients included. Being quite a salad girl myself, I would need to add a salad or some fruit to most any of these meals to make them complete, thus adding cost and prep.
The meals were very filling and just the right size for me, a petite woman. I worry that they're not "man-sized" enough for a person with a heartier appetite, and wouldn't supply enough calories for a 6-foot tall guy who weighs 180 pounds, for example. The Smoked Pinto Beans with Cumin Carrots, for example, is only 300 calories, which is great for how filling it is, and perfect for someone who wants to maintain or lose weight, but it wouldn't be a sufficient dinner for that 6-footer.
I've had other meal delivery services send me samples and I just wasn't impressed enough to recommend or write about them. Fresh n' Lean's meals are the best I've received. They're promising for those who don't have the time or inclination to shop, prep, and cook organic plant-based meals. With the few caveats above (need more raw fresh salads; light on calories), this is a promising service that would benefit a lot of time- and budget-pressed eaters; these meals seem like they'd be especially useful to single people.
Thank you to Fresh n' Lean for letting us sample their meals. And don't forget, if you want to try them, add the coupon code VEGKITCHEN to your order for a 15% discount.
Disclaimer: Fresh n' Lean provided product samples free of charge to VegKitchen. We were under no obligation to review them, and opinions expressed are our own.