This cold soup offers an easy and tasty way to enjoy a bowlful of fresh summer tomatoes and corn at their peak of flavor. Do try it with spicy tomato juice, which adds a lot of flavor without a lot of extra work. This is an appealing accompaniment to a late summer meal of grilled vegetables and veggie burgers.
Serves: 4 to 6
4 medium ears fresh corn, broken in half
2 pounds ripe, flavorful tomatoes (use a combination of red, yellow, and heirloom
2 scallions, cut into 1-inch pieces
¼ cup minced fresh parsley, or more, to taste
Fresh basil, as desired
2 tablespoons minced fresh dill, or more, to taste, optional
2 to 3 cups tomato juice, preferably spicy tomato juice (you can use
bloody Mary mix if it has no additives or Worcestershire sauce), as needed
Salt and freshly ground black pepper to taste (you may not need either if
you use spicy tomato juice)
1 cup or so yellow cherry or grape tomatoes, quartered
If the corn is really fresh and tender, you can use it uncooked if you like it that way. Otherwise cook or microwave just until barely cooked, then plunge into cold water.
Once the corn is cool enough to handle, stand each on its flat end and scrape the kernels off with a sharp knife. Transfer to a serving container.
Meanwhile, chop the tomatoes into large chunks and add to a food processor along with the scallions. Pulse on and off until evenly and coarsely chopped. If you have no food processor, cut the tomatoes into tiny pieces.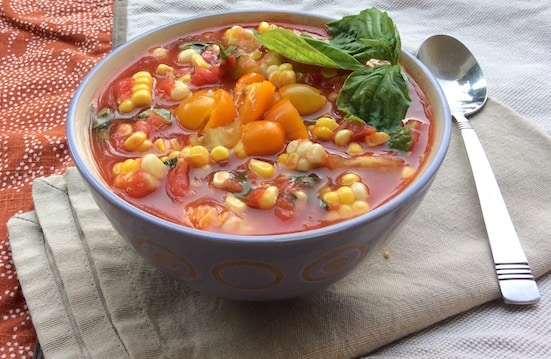 Transfer the chopped or processed tomatoes to the serving container with the corn.
Add the parsley, basil and optional dill. Stir in enough tomato juice to give the soup a thick yet not overly dense consistency. Taste to see if salt and pepper are needed, especially if you use spicy tomato juice.
Chill the soup for an hour or so in the refrigerator if time allows. Garnish each serving with the little yellow tomatoes (plus some extra basil if you'd like).