Buying groceries is an investment. We spend our time at the grocery store carefully reading food labels, checking to see if items are organic and where the produce comes from, for example. I could easily spend a good two hours in the grocery store. We might also plan our meals for the week ahead and create a very specific shopping list. With all this work, planning, and time, it's incredibly disappointing when produce goes bad before we get a chance to use it! I often find I buy cilantro to use throughout the next two weeks and, to my disappointment, it goes bad after just a few days. Keeping fruit and vegetables as fresh as the day we bought them is no easy task. But what  can we do. Allegedly, we can avoid opening the fridge to spoiled produce by using FreshWorks™ Produce Saver, an innovative storage container that claims to incorporate patented technology to keep fruits and veggies fresher for up to 80% longer, #LongLiveProduce!
Disclosure: I received product samples for review purposes. Opinions are my own.
I joined in on the #LongLiveProduce challenge and purchased leafy greens and berries to test out the FreshWorks™ Produce Saver for ourselves. I divided the greens into two portions and put half of the greens, unwashed, in the FreshWorks™ Produce Saver and the other half remained in the store's plastic packaging. A key thing to remember is to not wash or cut the produce before putting it in the storage container. Simply move the fruit and veggies from the store packaging to the FreshWorks™ Produce Saver before refrigerating.
I checked on my produce each week to examine the status of the greens and fruit in both the FreshWorks™ Produce Saver and the original packaging. What did I find?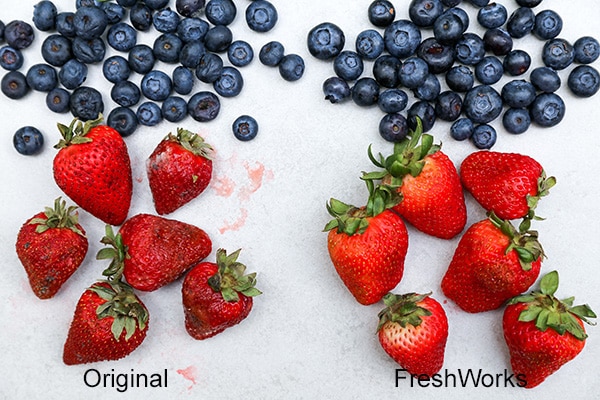 Find out below how to enter for a chance to win your own FreshWorks™ Produce Savers below.
Within just several days the greens in the grocery store's packaging were already wilting and getting soggy. After seven days, the greens had to be thrown out. It took more than ten days before there was any trace of excess moisture in the Produce Saver. But even then, the lettuce still appeared appetizing and edible. It wasn't until day twenty that the produce wilted and got soggy to the point of needing to be thrown out. Learn from my experience and use the Produce Saver to prolong the life of your groceries so you can save produce for 10+ days and never have to throw anything out.
I also discovered that fruit lasted longer in the Produce Saver than greens. Without the container, fruit typically lasts longer anyways. So keep this in mind when putting lettuce and other greens in your Produce Saver. Fruit should last through the full twenty days though.
I can now buy groceries with the confidence of knowing that my hard work and time isn't being wasted. Since doing the Fresh Works challenge, I've continued to use my Produce Saver. I put dill in the smallest container and was able to use it on a variety of different recipes over the course of two weeks. No browning appeared during this time. Not having to take multiple trips back to the store to replace one ingredient, like dill, was such a relief since I had already planned out my meals for the week. Previously, I would only plan meals for the week ahead, but with my Produce Saver I can plan for two weeks ahead and skip that extra trip to the store. By prolonging the life of my fruits and veggies, I have thrown out less food, saved money by buying less, and I eat healthier. I've noticed a change in my eating habits since I always have fresh produce available, I'm not coming home to an empty fridge and ordering takeout out of frustration. And I always have fresh fruit to snack on when those sugar cravings hit. We're busy, and often exhausted, people—don't let your fridge empty out before it has to!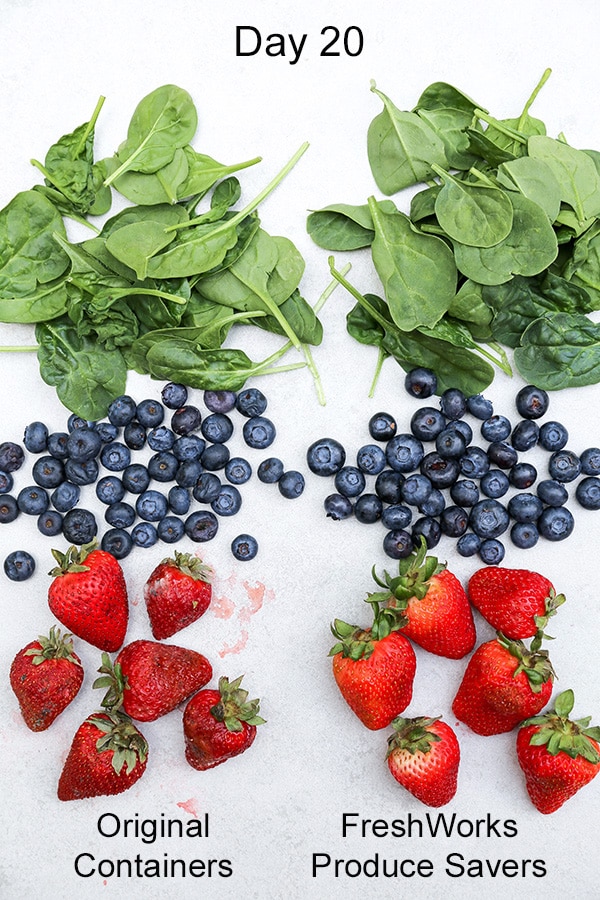 By using the FreshWorks™ Produce Saver, you can extend the life of your fruits and vegetables. Your groceries will look and taste their very best for longer. FreshWorks uses revolutionary FreshVent™ technology to regulate the flow of oxygen and carbon dioxide, while the CrispTray™ prevents moisture buildup and spoilage. This keeps produce fresher for up to 80% longer. The containers come in three different sizes to fit all produce needs (small 2.5 cups, medium 6.3 cups, large 17.3 cups).
The benefits of having your groceries last longer are countless, but one major benefit is reducing food waste. Americans waste 23 billion pounds of fresh produce each year because it spoils before we have the chance to eat it. That's 187 pounds for every household. Another benefit is saving money. Americans throw away $24 billion worth of produce each year, which is $192 per household that could be saved annually by using FreshWorks.
Join us in the #LongLiveProduce challenge to see just how much longer you can make your produce last!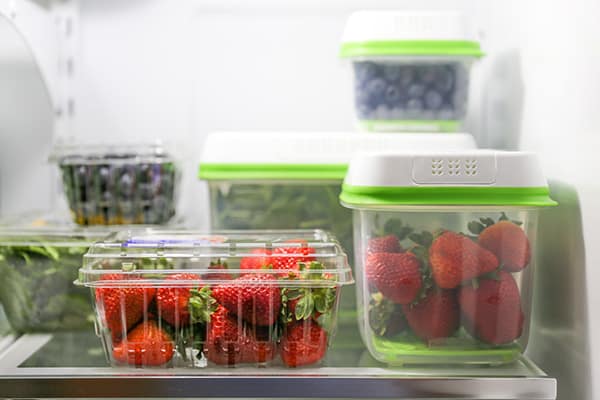 For a chance to win your own 3-piece set of FreshWorks™Produce Savers, visit our friends at Oh My Veggies.