This fresh fruit treat is as pretty to look at as it is delicious to eat. It's made with generous layers of fresh fruit and berries, granola, and soy yogurt flavored with bananas. It's presented in a similar fashion to an ice cream sundae. Breakfast treat or dessert, you choose. Recipe from Vegan Bites: Recipes for Singles* by Beverly Lynn Bennett, reprinted by permission of Book Publishing Co. Photos by Hannah Kaminsky.  
Makes 1 large serving
1 medium banana, thinly sliced (about ¾ cup)
1 kiwi, peeled, quartered lengthwise, and sliced (about ½ cup)
⅓ cup blueberries
⅓ cup sliced strawberries
1 container (6 ounces) plain or vanilla soy yogurt
1 cup granola
Divide the banana evenly between two small bowls and set one bowl aside. Add the kiwi, blueberries, and strawberries, stir gently to combine, and set aside.
Using a fork, mash the reserved banana slices, keeping them a bit chunky. Add the soy yogurt and stir until well combined.
To assemble the parfait, layer half of the fruit mixture, half of the granola, and half of the yogurt mixture in the bottom of a large glass or bowl.
Repeat the layering procedure with the remaining fruit, granola, and yogurt mixture. Serve immediately.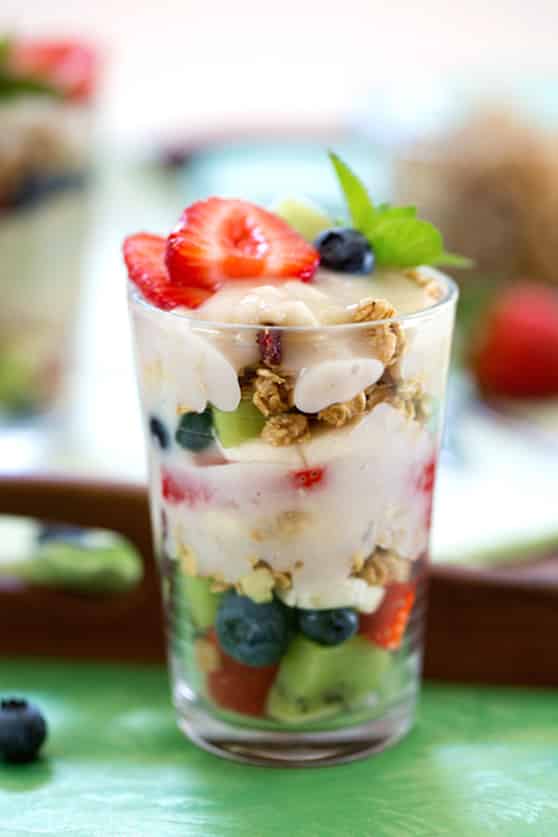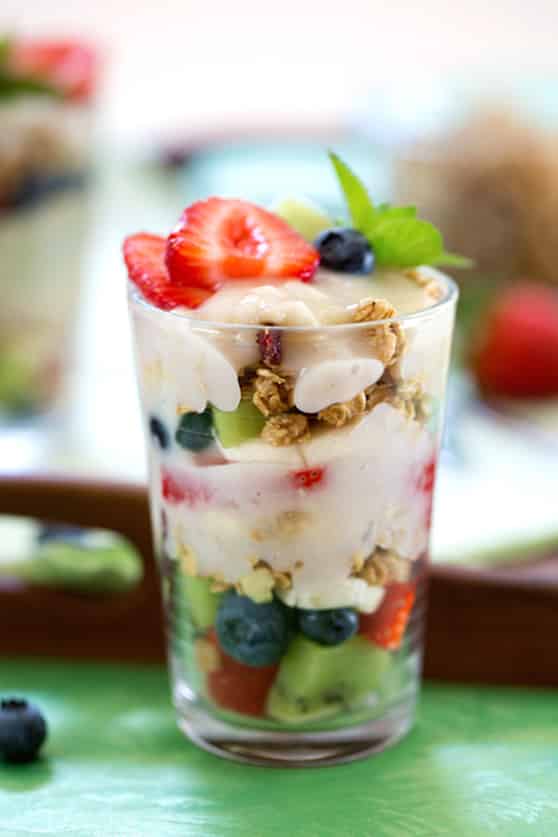 *This post contains affiliate links. If the product is purchased by linking through this review, VegKitchen receives a modest commission, which helps maintain our site and helps it to continue growing!