Garlicky pasta is embellished with heaps of nutrients from greens and gomasio. Gomasio is a condiment used in Japanese cuisine as well as a staple of the macrobiotic diet. It has an earthy, toasty, salty flavor and can be used on almost anything…pasta, rice, popcorn or salads. However, it is more than just added flavor, it provides a plethora of trace minerals essential for health, including thyroid function.  You can even consider gomasio a "remineralizing seasoning." Recipe and photos contributed by Cristina Cavanaugh, from BeginWithin Nutrition.
4 or more servings
2 tablespoons Bragg's Amino Acids or Tamari
2 tablespoons toasted sesame seed oil
1 tablespoon liquid sweetener of your choice
2 teaspoons rice wine vinegar
1 lime, juiced
1 tablespoon fresh ginger root, minced
8 ounces noodles of your choice (rice, buckwheat
or other Asian noodles, or raw zucchini noodles)
1 tablespoon coconut oil or oil of your choice
3 cloves garlic, minced
1 bunch (8 to 10 ounces) kale, cut into bite-sized pieces
1 red bell pepper, diced
2 scallions, chopped
¼ cup chopped fresh cilantro
¼ cup coarsely chopped raw cashews
¼ teaspoon crushed red pepper flakes, optional
Gomasio (recipe follows), as desired
Lime wedges, for garnish
Use a blender or whisk together Bragg's Amino Acids, toasted sesame seed oil, maple syrup, rice wine vinegar, lime juice, ginger and set aside.
Cook noodles according to package directions. When done, drain and transfer to a serving container. Pour dressing over noodles and stir together.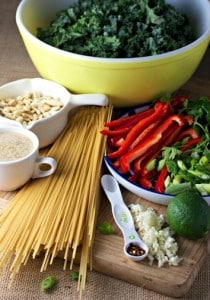 In a large skillet, heat coconut oil and sauté garlic until fragrant. Add kale and sauté until wilted adding a tablespoon of water at a time if needed. Add cooked kale to pasta.
Top with diced red peppers, chopped scallions, cilantro, cashews, crushed red pepper flakes and gomasio. Garnish with lime wedges and pass around extra gomasio for topping individual servings.
Gomasio
1 cup sesame seeds
1 tablespoon sea salt
1 strip kombu seaweed
Using a cast iron or other heavy skillet over medium heat, add sesame seeds and cook until toasted. Stir continuously to prevent burning.
Remove seeds and grind using a mortar and pestle.
Toast the kombu strip in the skillet, then  remove and break into small pieces.  Grind using a mortar and pestle.
Combine all ingredient and store in an air-tight container.