Black beans are delicious prepared with lots of garlic. This is a great accompaniment to vegan quesadillas or soft tacos that don't themselves contain beans; it's also a fantastic filling for soft tacos. These also go nicely with most kinds of simple meals that needs a little protein boost.
Serves: 6
1 to 2 tablespoons extra-virgin olive oil
1 medium onion, finely chopped
4 to 6 cloves garlic, minced
Two 16-ounce cans black beans, drained and rinsed,
or 3 to 4 cups cooked black beans (from about 1 ⅔ cups raw)
Juice of ½ to 1 lemon or lime, or to taste
1 tablespoon fresh oregano leaves, or 1 teaspoon dried
1 to 2 small fresh hot chile pepper, seeded and minced, or 1 medium milder chile
(like poblano) or dried hot red pepper flakes to taste (see note)
2 to 3 scallions, thinly sliced
Salt to taste
¼ cup minced fresh cilantro or parsley, or more, to taste
Heat the oil in a large saucepan. Add the onion and sauté until over medium-low heat until translucent. Add the garlic and continue to sauté until both are golden.
Add the beans, ½ cup of their cooking liquid or water, and lemon or lime juice. Cook over medium heat until the mixture comes to a gentle simmer.
Mash some of the beans in the skillet with a potato masher until there's a nice thick base. Add the remaining ingredients except the cilantro. Simmer gently for 5 to  minutes longer. Stir in the cilantro, and serve.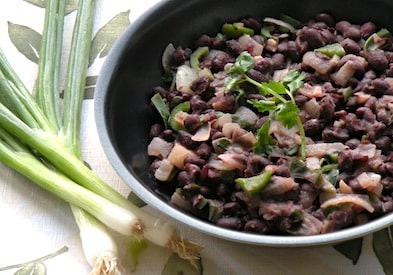 Note: For hot chilies, choose jalpeño or serrano; poblano is a perfect mild chili. Or, you can use a 4-ounce can mild chopped green chilies.
Varation: Add a medium bell pepper (any color), finely diced, after the onion becomes translucent