A new kind of snack recently made it's debut —Ginger's Healthy Habits has created Veggie Trail Mix, made from a mixture of vegetables, nuts, sprouted seeds. VegKitchen recently got the opportunity to sample tasty, all-natural Pepperoni Pizza (which should be in air quotes, since there's nothing pepperoni or pizza about this snack other than the flavor—it's all plant-based!) and Maple Cinnamon. One other variety that's available is Garlic and Herb.
Organic, vegan, and gluten-free, Ginger's Healthy Habits superfood snacks are high protein, sugar-free and oil free, too. and because they're air crisped at a low temperature, the snacks are designed to maintain the nutritional value of their ingredients. That makes them perfect not just for raw-foodies but anyone looking for snacking satisfaction without the guilt.
The Veggie Trail Mix snacks come in single-serving packets. Pepperoni Pizza is bold and hearty, based on tomatoes, zucchini, kale, olives, nuts and seeds. Maple Cinnamon tastes like dessert even though its main ingredients are carrots, sweet potatoes, coconut, nuts and seeds.They'll both go well with your morning smoothie, and kids will love them, too!
Ginger's Healthy Habits was founded by Ginger Lewis, a chef who is passionate about spreading the word about the benefits of raw food. With the Veggie Trail Mix varieties, she's created a  snack that tastes indulgent, but which packs a nutritional punch. For more information, visit Ginger's Healthy Habits.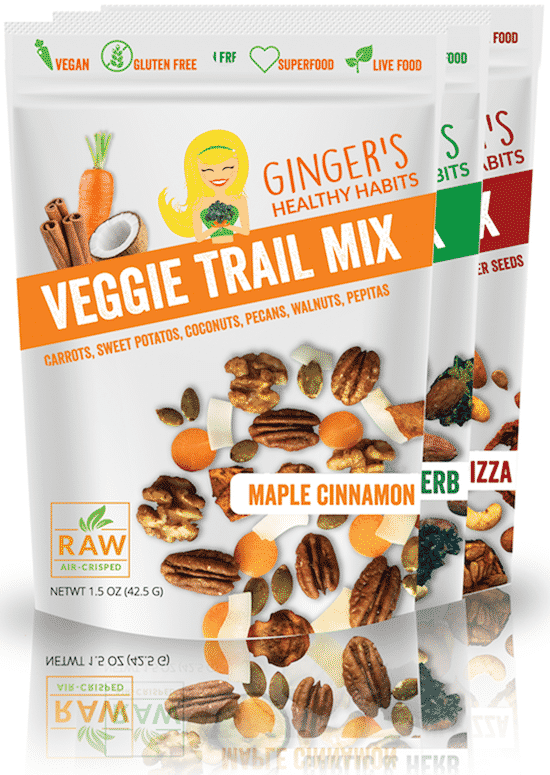 This is not a sponsored post. Ginger's Healthy Habits provided product samples for this review, and the opinions of VegKitchen are freely given.
See more reviews in our Product Guide.