Use perfectly ripe fruit—lush and sweet, but not too soft—for these late-summer vegan peach muffins that have more than a hint of ginger! Nectarines work just as well. Enjoy them with iced coffee or tea. Photos by Hannah Kaminsky.
Yield: 1 dozen
2 cups whole wheat pastry flour
¼ cup wheat germ, quick-cooking oats, or hemp seeds
2 teaspoons baking powder
1 teaspoon baking soda
¾ cup applesauce
½ cup fresh orange juice
2 tablespoons safflower oil
1 ½ cups finely diced, lushly ripe peaches or nectarines
(off-season, use organic canned peaches)
½ cup peach all-fruit preserves
¼ cup finely diced crystallized ginger
¼ cup finely chopped walnuts, plus walnut halves for topping
Preheat the oven to 350 degrees F.
In a mixing bowl, combine the first 5 (dry) ingredients and stir together.
Make a well in the center of the dry ingredients and pour in the applesauce, juice concentrate, and oil. Stir together until thoroughly combined.
Mix the diced fruit with the fruit preserves until evenly coated, then gently stir into the batter along with the walnuts. Divide the batter evenly among 12 foil-lined muffin tins. Top each muffin with a walnut half.
Bake for 25 minutes, or until a small knife inserted into the center of a muffin tests clean. When cool enough to handle, transfer the muffins to a plate or rack to cool. Serve warm or at room temperature.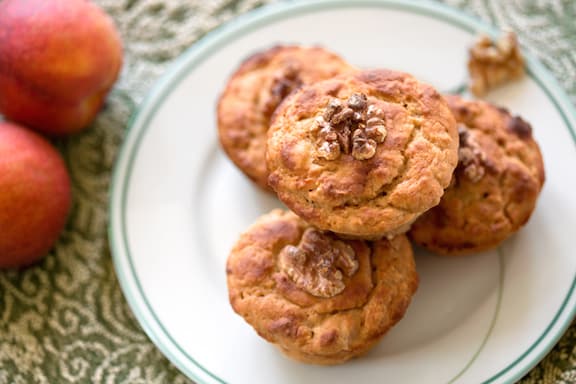 -