Gnocchi, in case you haven't discovered them, are an Italian specialty that are mainly made of  potato flour, with a little wheat flour. In other words, a bit of starchy comfort heaven. You use them the same way you'd use a chunky pasta; they're especially good enveloped in marinara sauce. We like gnocchi with beans and greens — all adding up to a classic Italian trio.
Some cooks like to make their own gnocchi, but no thanks, not us. The project takes a good hour or two and makes a floury mess of the kitchen. There are a number of vegan brands, one of which we depict below, and being the food hackers that we are, we'd prefer just opening the package and letting that be the beginning and end of it.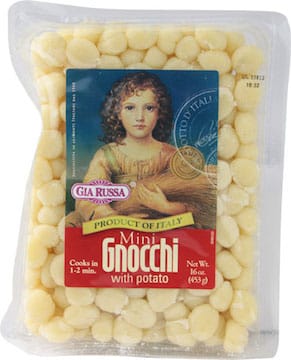 Do read package ingredients; as often as not, gnocchi contain eggs. You'll find them in the frozen foods or fresh pasta sections of supermarkets and specialty groceries.
For a complete meal, this is nice served with a crusty whole wheat bread and vegan pesto;  though this is entirely optional, it's a nice way to stretch the meal if you're feeding guests or very hungry eaters. Add a few olives, a cut up yellow or orange bell pepper, and a few slices of a small cucumber and you've got an easy and elegant dinner. Alternatively, skip all of that and just serve with a simple salad.
Serves: 4 to 6
Time to table: 15 minutes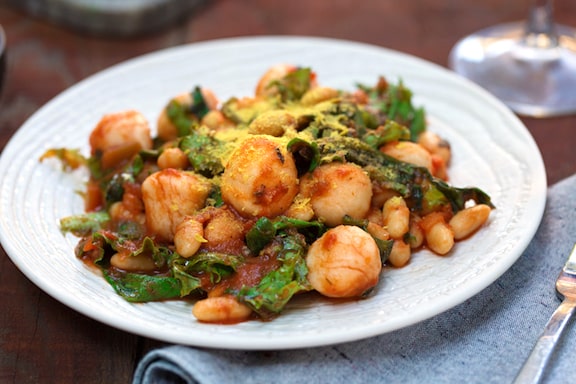 What you need
16-ounce bag gnocchi (make sure they're vegan)

28-ounce jar marinara sauce (also make sure it's vegan)

15-ounce can white beans (cannellini), drained and rinsed

6- to 8-ounce package baby spinach, rinsed

A drizzle of olive oil, optional

Salt and freshly ground pepper to taste

Nutritional yeast or vegan Parmesan
What to do
1  Cook the gnocchi according to package directions, then drain.
2  Return the gnocchi to the same cooking pot and add the sauce and beans. Heat until piping hot.
3  Add the spinach, cover, and cook just until wilted down.
4  Drizzle in a little olive oil for extra richness, if you'd like, then season with salt and pepper.
5  Serve at once, passing around nutritional yeast or vegan Parmesan for topping individual servings.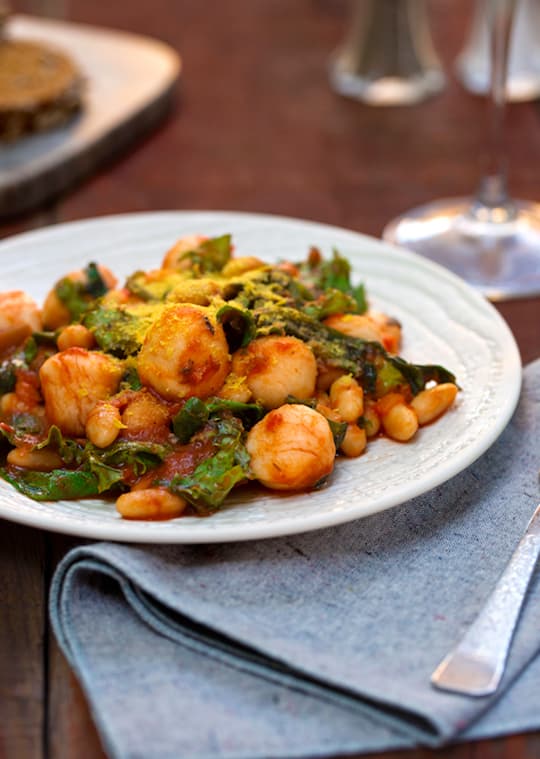 Photos by Hannah Kaminsky