Beets and carrots are such companionable vegetables. They go together "grate" in this simple salad. Such flavorful veggies need only light embellishment — just a little added sweetness, plus the tartness of lemon, which brings out their flavors. And a small flourish of your favorite seeds is a nice finishing touch.
Serves: 4 to 6
2 medium beets, peeled and grated (see note)
4 large or 6 medium carrots, peeled and grated
1 tablespoon agave nectar or maple syrup
Juice of ½ to 1 lemon (2 to 4 tablespoons), to taste
1 tablespoon caraway, hemp, or sesame seeds
Salt and freshly ground pepper to taste
Leaves from a few sprigs minced fresh herb of your choice, optional
(parsley, cilantro, or dill, or a combination)
Combine all the ingredients in a serving bowl. Ideally, allow time to let the salad stand (at room temperature or refrigerated), so that the flavors can blend.
Note: If you like beets partially cooked (they're also easier to peel and cut that way), you can simmer them whole in water to cover for about 5 to 8 minutes. Or, place them in a heatproof container with a very small amount of water; cover and microwave for 2 minutes per beet.  With either method, don't cook for too long — you want to be able to pierce through maybe ¼ inch, with resistance. Peel and cut the beets into chunks once they're cool enough to handle, before grating them.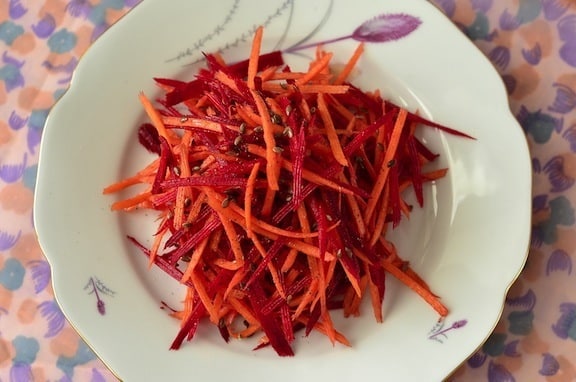 Here are more recipes using beets.