Be prepared for a revelation: you probably would  never think to put a cabbage on the grill, but you should. Besides adding smoky flavor, grilling brings out the vegetable's natural sweetness, making it appealing even for people who didn't think they liked cabbage. This will be easier if you have a grill basket, but it's doable without it. The cabbage can be grilled, then cooled to room temperature and refrigerated in an airtight container for up to one week. Reprinted with permission from Eat Your Vegetables: Bold Recipes for the Single Cook by Joe Yonan* © 2013. Published by Ten Speed Press, an imprint of Random House LLC.
Makes about 6 cups
Olive oil

1 medium green or red cabbage (about  21/2 pounds) or half of each


Sea salt

Freshly ground black pepper
Prepare the grill for direct heat. If using a gas grill, preheat to medium-high (450°F) and add soaked wood chips in  a foil packet or in a smoker box. If using a charcoal grill, light the charcoal or wood briquettes; when the briquettes are ready, distribute them under the cooking area for direct heat. For a medium-hot fire, you should be able to hold your hand about 6 inches above the coals for 4 or 5 seconds. Have ready a spray bottle filled with water for taming any flames. Lightly coat the grill rack with oil and place it on  the grill.
Cut the cabbage in half, top to bottom, slicing through the core. Cut each half into 1-inch-thick slabs, leaving the core intact as much as possible. Brush both sides of the slabs with oil, using 3 to 4 tablespoons in all, and sprinkle generously with salt.
Using a grill basket if you have one, grill the cabbage slabs until they are charred in spots on the outside and starting to wilt (but not soft) on the inside. (If some of the leaves come loose and start to burn, use tongs to pull them off and transfer them to a plate while you cook the remaining cabbage.)
Transfer the cooked slabs to a cutting board; cut out and discard the core. Cut the grilled leaves into thin slices. If serving as a side dish, season with more salt and pepper to taste.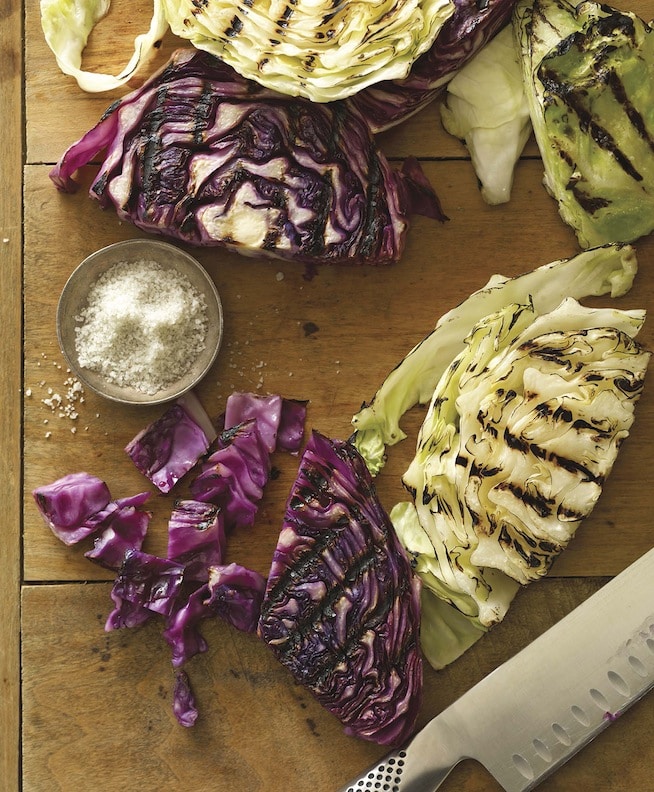 Explore more of VegKitchen's recipes for

 Cabbages and Lettuces – Beyond Salads.

*This post contains affiliate links. If the product is purchased by linking through this review, VegKitchen receives a modest commission, which helps maintain our site and helps it to continue growing!