Give these Grilled Tofu Skewers a try for dinner tonight. This recipe is made of Grilled tofu that is marinated and paired with vegetables. Serve up these tofu kebabs for lunch, dinner, or even as a party appetizer for entertaining guests.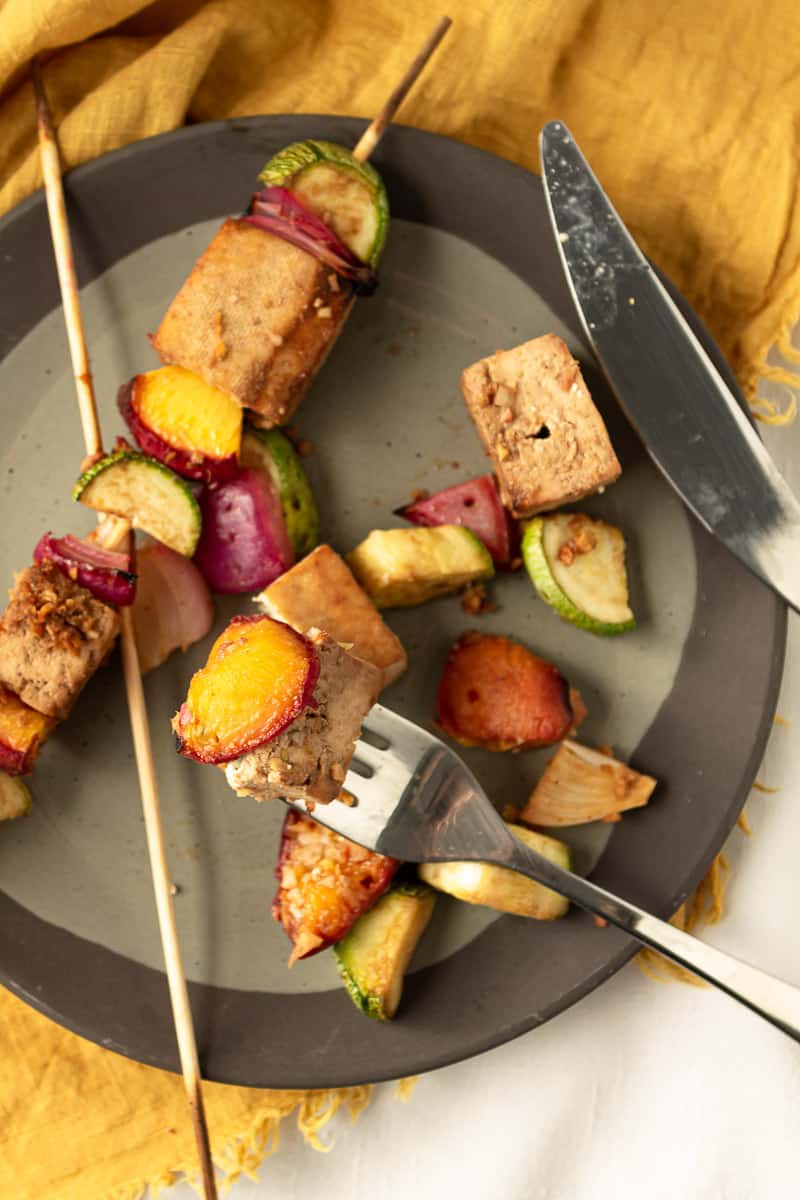 A homemade marinade will bring such incredible flavor to the tofu in this dish. When you pair the marinated tofu with the zucchini, peaches, and red onions, you get the perfect sweet and savory recipe. 
If you are a fan of firm tofu, here is a creative way to use it up! Toss it on the grill and let it crisp up to perfection. 
This Grilled Tofu Skewers Recipe Is ...
Vegetarian 
Gluten-Free 
Vegan 
A Great Grilling Recipe for Summer and Spring 
Nut-Free 
30-Minute Dinner Idea 
How to Make Grilled Tofu Skewers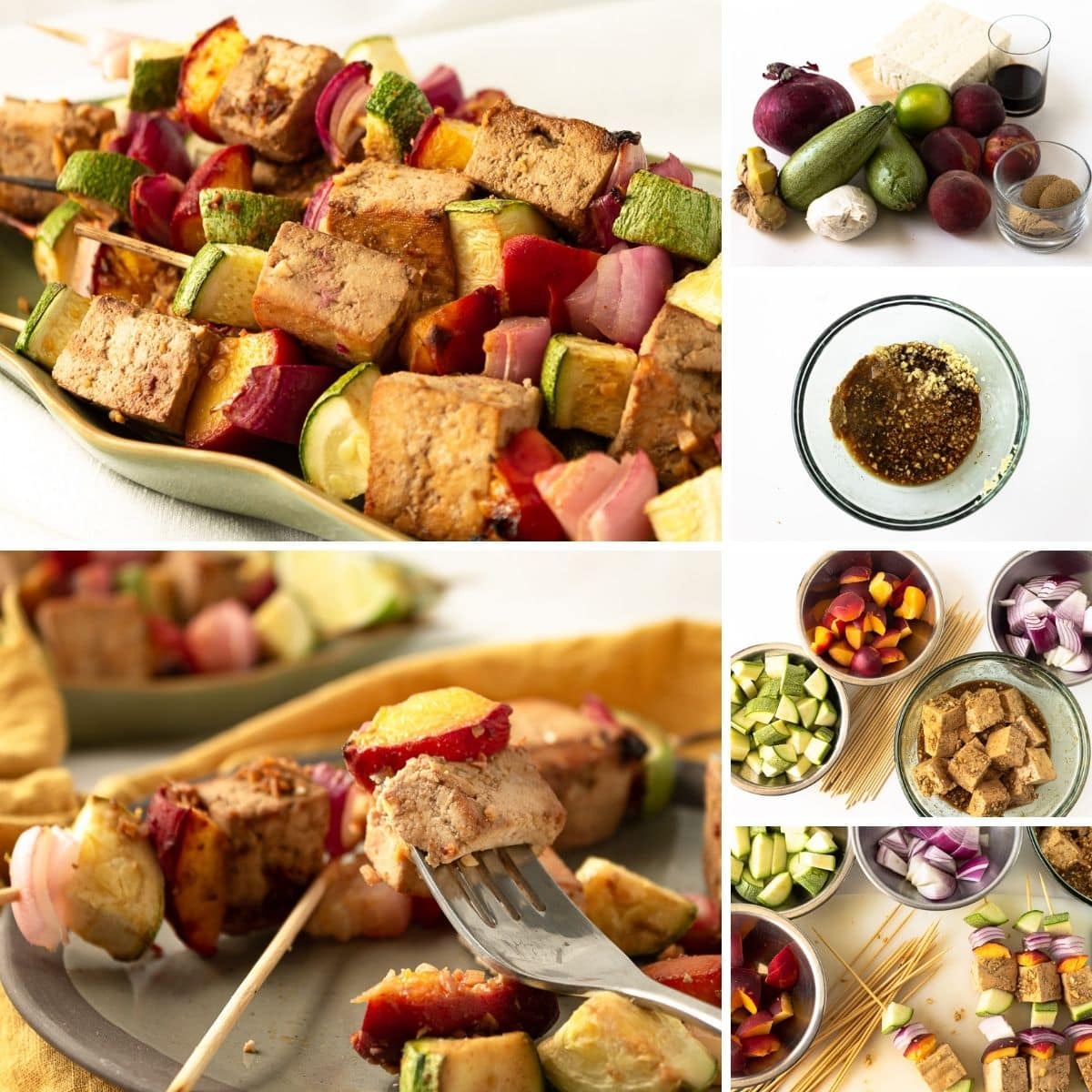 The first thing you will want to do is create your marinade. Add the marinade ingredients in a bowl or sealable bag and mix well. If using wooden bamboo skewers, soak them in water.
Drain the tofu and pat it dry. Try to get out as much liquid as possible by pressing on it.
Cut your tofu into cubes, and toss it in with the marinade. Then prep your vegetables and peaches. 
Start assembling your skewers, add 1–2 tofu, veggies, and repeat. 
Use a grilling pan and cook in the broiler or on the grill as directed. Remove and drizzle with the remaining marinade. 
Full measurements and directions for this recipe are in the printable recipe below. 
Tips and Tricks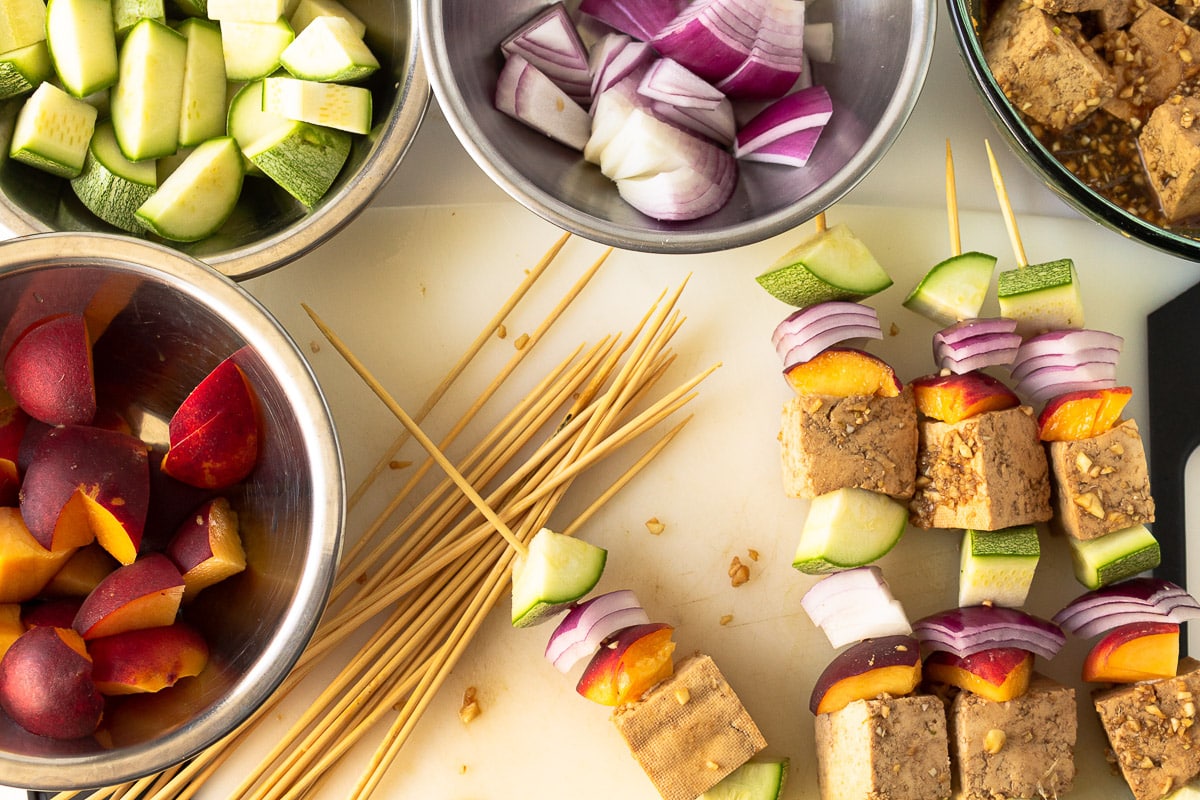 Drain Tofu
It is essential to drain and squeeze out as much liquid as possible when making this tofu skewers recipe. You can gently squeeze with paper towels to help pull out the liquid.
Use Firm Tofu
Firm tofu will hold up best when cut and pushed onto the skewers. If you have softer tofu, you will find it might fall apart as it cooks. 
Variations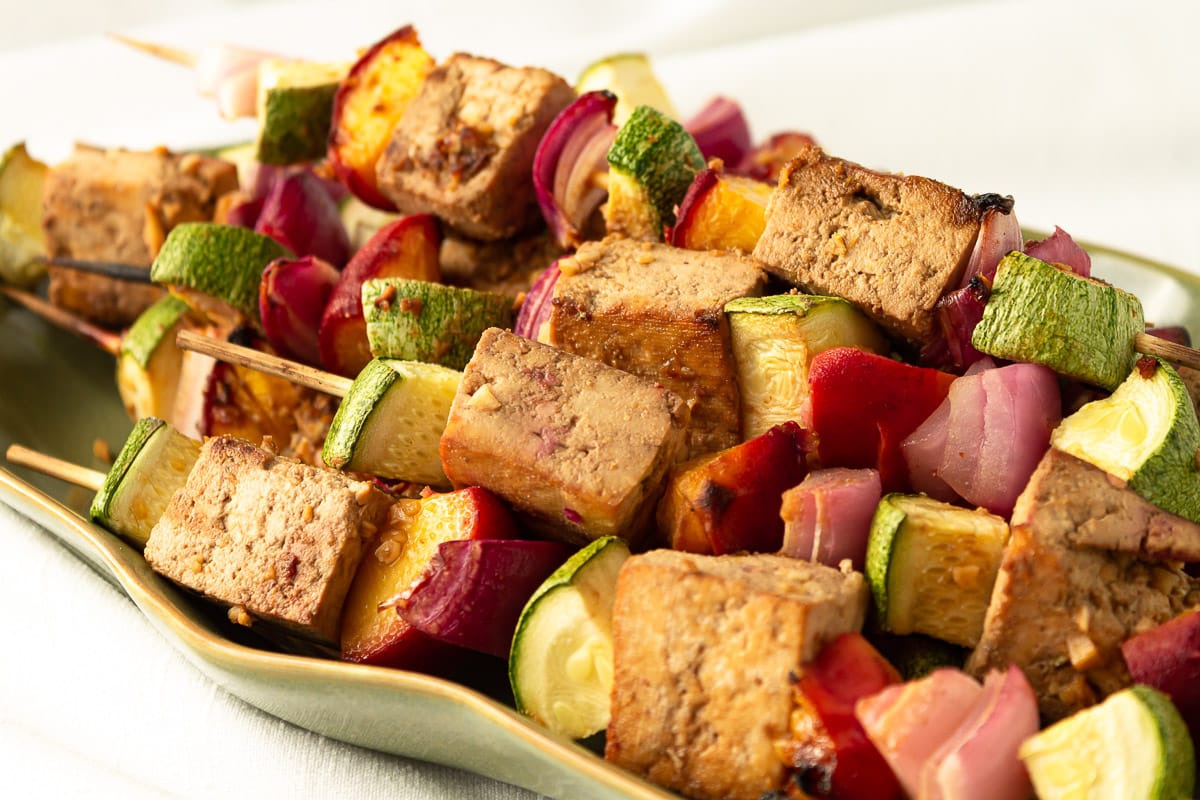 Vegetables
Feel free to change up the vegetables you use to pair with the tofu. Peppers, onions, mushrooms, etc., are all great options. You can also consider adding pineapple in place of the peaches. Just use what you have or what you enjoy eating. 
Marinade
If you want to use a different marinade, go right ahead. This soy sauce-based marinade is one of my go-to's. But any liquid marinade will work. 
Broil, Grill, or Air Fry
You can broiler your kebabs in the oven, toss them on the grill, or even pop them in your air fryer. All methods work great for heating up and cooking these skewers and infusing all the flavors together. 
Grilled Tofu Skewers FAQs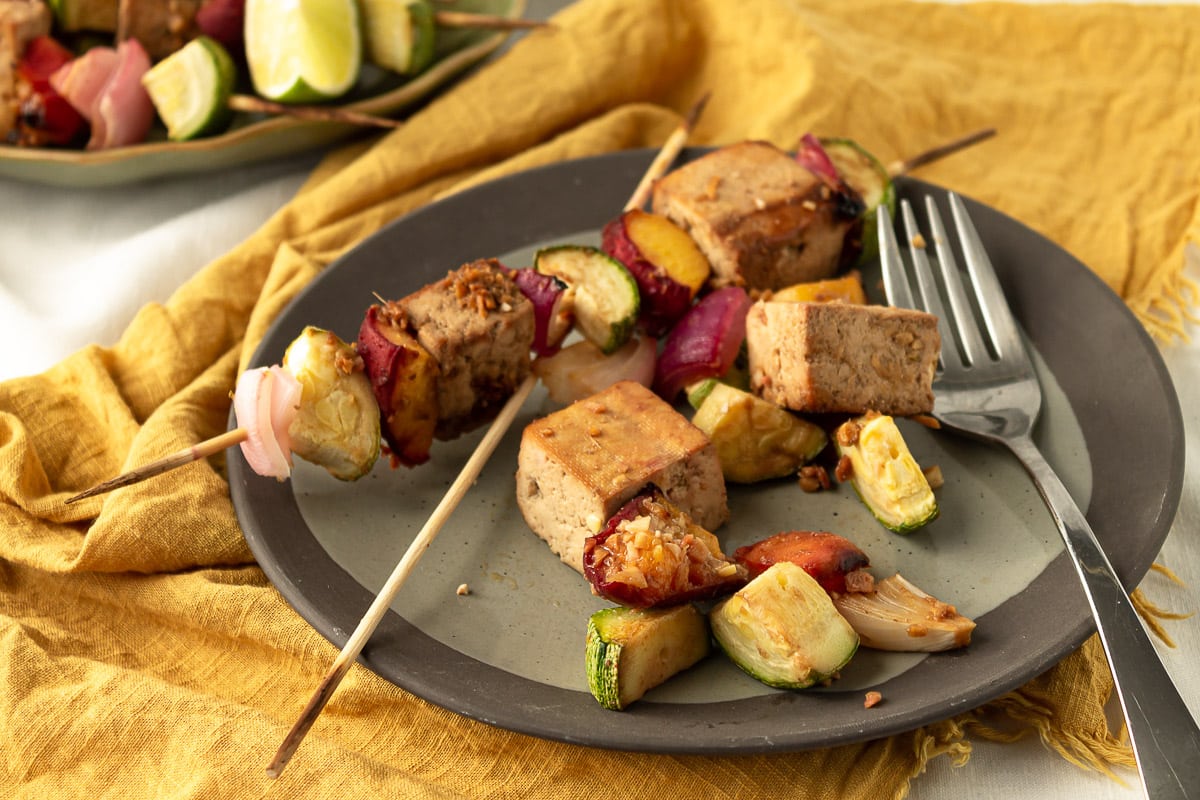 What type of tofu is best for grilling?
Firm, non-silken tofu is what I like to use. Having firm tofu is a must, or it will not hold together as it cooks. 
Why did my skewers burn up on the grill?
Wooden bamboo skewers need to soak in water for at least 10–15 minutes before grilling. Otherwise, when tossed on the grill, they will burn up and make your skewers fall apart. 
What to serve with marinated tofu?
Rice, cauliflower rice, and quinoa are all great options to pair with this marinated tofu and vegetables. Just cook up your grains how you like, remove the tofu and vegetables from skewers, and place them on top of the rice! 
Recipe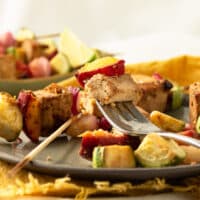 Grilled Tofu Skewers
Give these Grilled Tofu Skewers a try for dinner tonight. This recipe is made of Grilled tofu that is marinated and paired with vegetables. Serve up these tofu kebabs for lunch, dinner, or even as a party appetizer for entertaining guests. 
Print
Pin
Rate
Email
Ingredients
16

oz

firm tofu

3–4

small peaches

½

lg red onion

2

medium zucchini
Marinade:
3

tbsp

ginger

minced

4

tbsp

lime juice

2

tbsp

brown sugar

3–4

cloves garlic

1 ½

tsp

ground coriander

2

tbsp

soy sauce*

½

tsp

mustard powder
Instructions
Combine marinade ingredients. Finely mince ginger and garlic, combine with remaining and ingredients, mix and set aside.

Drain tofu and pat dry with paper towels, pressing out as much liquid as possible.

Cut tofu into 1 ½"x2" (3.5x5cm) cubes. Add to marinade and toss to coat. Set aside while preparing remaining ingredients.

If using bamboo skewers, set to soak in cold water.

Cut zucchini and peach in 1 ½" (3.5cm) cubes. Slice onion into 1" (2.5cm) pieces and break apart so that you have clusters of 2–3 layers.

Turn the tofu pieces in the marinade again. Turn on broiler to high.

Assemble the skewers, placing 1–2 pieces of tofu per skewer and even distribute the other ingredients.

Place skewers on grilling pan or foil lined baking sheet.

Cook under broiler for 8 minutes. Flip skewers and cook the other side for 3–4 minutes to brown slightly on the other side.

Remove from oven and drizzle with remaining marinade. Serve immediately.
Notes
*Use tamari or other aminos to keep the recipe gluten free.
Skewers can also be cooked on a grill over very hot coals.
Nutrition
Calories:
1416
kcal
|
Carbohydrates:
56
g
|
Protein:
144
g
|
Fat:
70
g
|
Saturated Fat:
8
g
|
Sodium:
102
mg
|
Potassium:
563
mg
|
Fiber:
16
g
|
Sugar:
18
g
|
Vitamin A:
578
IU
|
Vitamin C:
36
mg
|
Calcium:
2018
mg
|
Iron:
20
mg
Vegan-ize any recipe!
Grab our free vegan cheat sheet, packed with my favorite easy substitutions to make any recipe vegan.