This recipe uses less oil than many granola recipe, for a lighter breakfast. Plus, hemp seeds add extra protein to this already nutritious cereal. Serve with cold non-dairy milk of choice. Contributed by Dreena Burton, from Eat, Drink & Be Vegan.*
Makes about 6 ½ cups
2 cups barley flakes
1 cup oat flakes (rolled oats; may use quick oats)
1 cup hemp seed nuts (I use Manitoba Harvest brand)
½ cup unsweetened shredded coconut
½ cup almond slivers, or use chopped almonds or other nuts—
pecans, walnuts, hazelnuts (skins removed) or cashews
1 teaspoon cinnamon
¼ teaspoon freshly grated nutmeg or ground cardamom
1⁄4 teaspoon + ⅛ teaspoon sea salt
1 teaspoon pure vanilla extract
½ teaspoon blackstrap molasses
⅔ cup brown rice syrup
¼ cup organic canola or other neutral tasting oil
¾  to 1 cup raisins or chopped apricots (or other dried fruit)
Preheat oven to 300°F (150°C).
In a large bowl, combine barley and oat flakes, hemp seeds, coconut, almonds, cinnamon, nutmeg, and salt, and stir until well combined. In another bowl, mix vanilla and molasses to thin out, then stir in brown rice syrup and oil.
Add wet mixture to dry, stirring to combine well. Line a large-rimmed baking sheet with parchment paper. Transfer to baking sheet and spread out evenly.
Bake for 28 to 33 minutes, stirring occasionally to ensure granola browns evenly. Remove from oven, stir in dried fruit, and let cool completely.
Notes:
You may use whole almonds, chopped, or other chopped nuts such as pecans, walnuts, or hazelnuts (skins removed).
For a lower fat version, you can reduce oil to 3 tablespoons.
Try storing larger clusters of this cereal in bags or small containers for snacking on the go.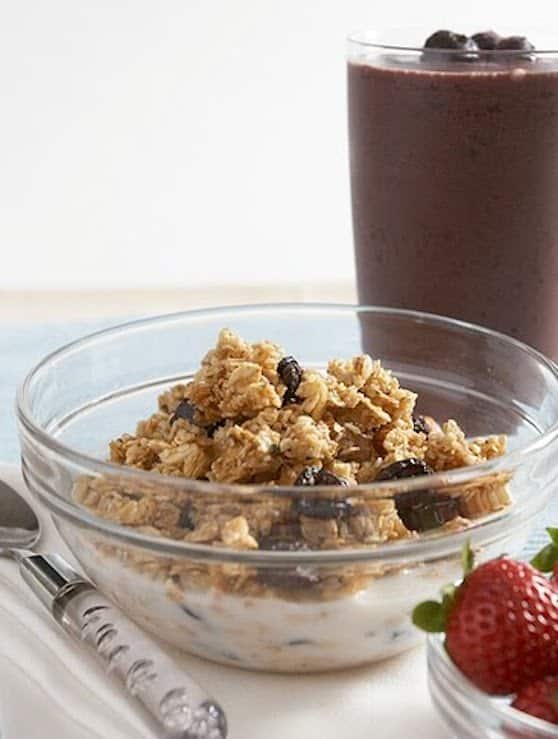 *This post contains affiliate links. If the product is purchased by linking through this review, VegKitchen receives a modest commission, which helps maintain our site and helps it to continue growing!