Filled with crisp veggies that need only a little prep but no cooking, this is a crisp and colorful presentation for cold Asian noodles. Serve with your favorite tofu or tempeh dish for an appealing, light meal. Look for sweet and pungent hoisin sauce in the Asian foods section of supermarkets. You might find some of the recommended noodles there too, but if not, you'll surely find them in natural foods stores and Asian markets. Serve with Sweet and Smoky Tofu or Tempeh Strips or Teriyaki Tofu Triangles. Photo by Susan Voisin. 
Serves: 4 to 6
Dressing:
1 tablespoon reduced-sodium soy sauce
3 tablespoons rice vinegar
2 tablespoons hoisin sauce
2 tablespoons dark sesame oil
 -
8 ounces udon, soba, or Chinese wheat noodles, 

or whole-grain linguine

3 stalks bok choy or 1 head baby bok choy, sliced diagonally
15-ounce can baby corn, drained, a little liquid reserved
8 baby carrots, quartered lengthwise
4 to 6 ounces snow peas or snap peas, trimmed
2 to 3 scallions, green parts only, thinly sliced
2 to 3 tablespoons minced fresh cilantro, or more to taste, optional
⅓ cup chopped toasted cashews
Freshly ground pepper and/or dried hot red pepper flakes to taste
Combine the dressing ingredients in a small bowl, and stir together. Set aside.
Cook the noodles in plenty of rapidly simmering water until al dente. Drain and rinse under cool water, then drain well again.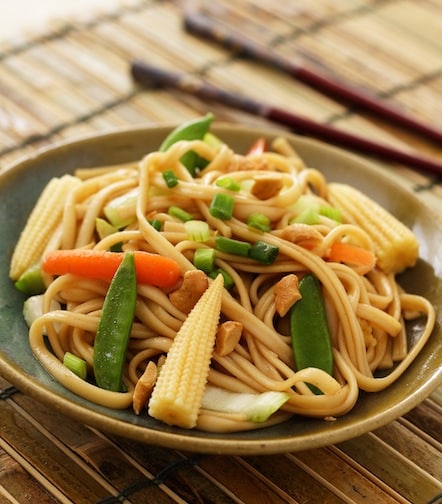 Meanwhile, combine the remaining ingredients in a large serving bowl. Add the cooked noodles and dressing, and toss well.
If the mixture needs a bit more moisture, drizzle in a small amount of the reserved liquid from the baby corn. Taste, and if desired, add more soy sauce, rice vinegar, and/or hoisin sauce to taste. Cover and refrigerate until needed, or serve at once.