Store-bought seitan is usually excellent, but it can be expensive. Using pure gluten flour is a shortcut to a homemade version that's not difficult to make. This recipe may be idiosyncratic, but it works well and with practice produces seitan that's chewy but not overly tough. Whenever I make this, I freeze half. It's nice come across and use it a few weeks later.
Makes: About 2 pounds, about 10 servings
2 tablespoons reduced-sodium soy sauce
2 ¼ cups gluten flour (vital wheat gluten)
½ teaspoon baking powder
Broth:
2 vegetable bouillon cubes
2 tablespoons reduced-sodium soy sauce
3 to 4 slices fresh ginger
Combine the soy sauce with 1 cup of water in a small mixing bowl. Place the gluten flour and baking powder in a medium mixing bowl and stir together. Gradually add the liquid to form a stiff dough, stirring with a spoon at first, and then working together with your hands.
Turn out onto a floured board and knead 30 times, then return the dough to the bowl, cover with a clean tea towel, and let it rest for 15 minutes.
Meanwhile, bring 10 cups water to a simmer in a large soup pot. Add the bouillon cubes, soy sauce, and ginger.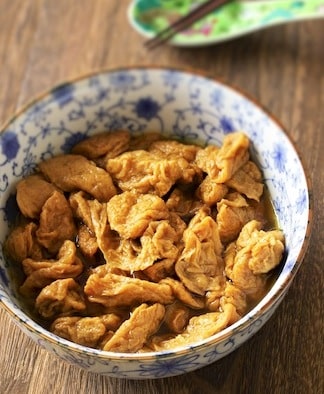 Once the water is close to a simmer, divide the dough into two pieces and pull into long, narrow loaves the shape of miniature French breads.
With a sharp, serrated knife, cut each section of dough crosswise into approximately ½-inch sections. When the water comes to a simmer, insert each slice. Simmer gently and steadily for 30 minutes. Drain (if desired, save the tasty stock to use for soup or other purpose) and let cool. Use in recipes calling for seitan.