Despite being part Irish, my family never really did anything to celebrate St. Patty's day while growing up. There was no Irish soda bread, no corned beef and cabbage, no colcannon. Since it's turned into a bit of a foodie holiday, I wanted to make something to celebrate my Irish heritage a few years ago, but there were no family recipes to veganize.
I came across an interesting dish in an issue of Better Homes and Gardens, and it seemed perfect for converting. This cabbage casserole has become a St. Patrick's Day favorite in my house, but of course, it's perfect for dinner any day of the year.
Note that not all beer is vegan, so check with the manufacturer or Barnivore.com before purchasing. Recipe reprinted with permission from What's for Dinner? Dinnertime Favorites from Dianne's Vegan Kitchen. ©2016 Dianne Wenz. Purchase your copy of the e-book here: http://www.diannesvegankitchen.com/cookbooks/
Makes: 4 servings
12 ounces stout beer

2 tablespoons agave nectar or maple syrup

2 tablespoons tomato paste

1 tablespoon yellow mustard

1 teaspoon sea salt, divided

1 teaspoon black pepper, divided

1 small head green cabbage, cut into small wedges

2 carrots, sliced

2 tablespoons olive oil, divided

16 ounces seitan, chopped into bite-size pieces

1 medium onion, thinly sliced

1 tablespoon flour (something neutral, like spelt)

Fresh parsley, coarsely chopped
Preheat the oven to 375°F.

Whisk together the stout, agave nectar, tomato paste, yellow mustard, ½ teaspoon of salt, and ½ teaspoon pepper in a small bowl. Set aside until ready to use.
Place the cabbage and carrots in a large casserole dish. Drizzle a tablespoon of olive oil over the vegetables, sprinkle with ½ teaspoon each of salt and black pepper and then toss gently. Bake for 25 to 30 minutes, stirring after about 15 minutes.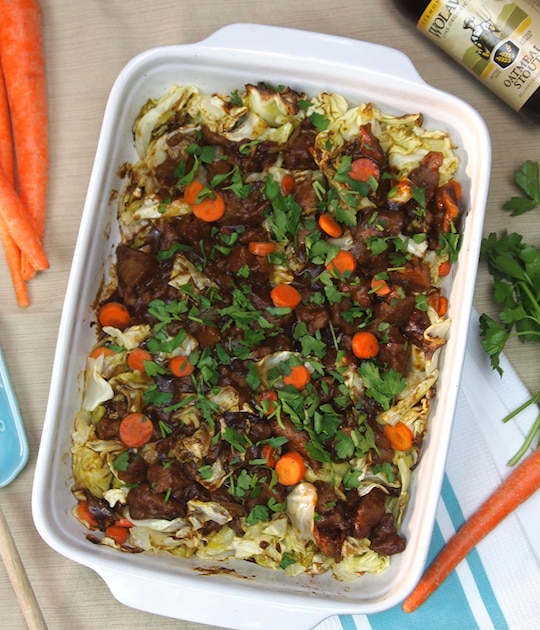 While the vegetables are cooking, heat a tablespoon of olive oil in a large pan over medium-high heat. Add the seitan, onions, and remaining salt. Cook for about 10 minutes, stirring frequently, until the onions begin to caramelize and seitan is a little crispy around the edges.
Pour the stout mixture over the onions and seitan, and sprinkle with the flour. Stir together and cook until the liquid begins to boil, about 5 minutes.
Once the carrots and cabbage mixture is done roasting, remove from the oven, and spoon the onion and seitan mixture over it.
Garnish with parsley and the rest of the black pepper. Serve hot.