Though cream of wheat or oatmeal are fine choices as hot cereals, there is a world of grains to explore for breakfast, from tiny whole grains to cracked, rolled, and ground grains. Explore the hot cereal section of most any natural foods store and see what appeals to you. If these grains are new to you, buy them in packaged form so you can follow specific instructions for cooking.
Once you're familiar with these grains, you can purchase them in bulk for greater economy. Whole-hot cereals make a great breakfast whether you're vegan, vegetarian, or simply want to start your day with a healthy, high-energy breakfast.
Here are some hot cereal grains you may enjoy exploring, to add to your repertoire of easy breakfast ideas:
ROLLED GRAINS OR FLAKES: This type of grain product is made from whole grains that have been steamed, then flattened with steel rollers. Grains available in this form include quinoa, barley, rye, kamut, and spelt.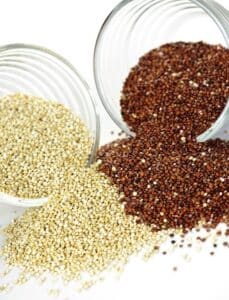 WHOLE GRAINS: Here's where you can get somewhat adventurous in the morning, with nutritious cooked ancient grains: quinoa, kañiwa,millet, amaranth, and teff. You will more likely find these shelved with whole grain products rather than hot cereals.
CRACKED GRAINS: Many (but not all) cracked grains have been presteamed, so they cook more quickly. among those are bulgur (wheat) and couscous (semolina wheat). Other grains available in cracked form include rye and barley.
GRITS (aslo called hominy grits): Grits are a traditional breakfast staple of the American south. You can find grits in most any supermarket, but stoneground grits (available in natural foods stores); they're more flavorful and robust.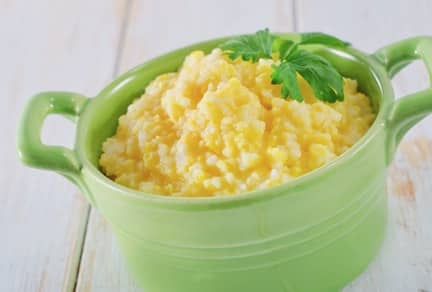 OATS: Many forms of cooked oats can grace the breakfast table. Rolled oats and oatmeal are perhaps the most common; oatmeal is simply a finely ground form of rolled oats; it cooks even more quickly than the relatively quick-cooking rolled oats. Oat bran is the outer covering of the whole oat groat. It has been recognized by some nutritionists as a rich form of soluble fiber and a possible aid in reducing overall serum cholesterol levels. Steel cut oats, sometimes called Scottish or Irish oatmeal, uses the whole oat groat, sliced, and makes for a hearty, gritty cereal.
"CREAM OF" CEREALS: Included here farina (cream of wheat) and cream of rice. These are generally made from refined grains, with vitamins and sometimes iron added back in. Their smooth, light textures make them especially appealing to youngsters. If heartier hot cereals may not appeal to your young children, "cream of" cereals may good for getting them into the hot cereal habit. Stir in a little wheat germ for extra flavor and nutrition, and gradually mix with a portion of heartier hot cereals. Look for organic versions in natural foods stores.
EMBELLISHMENTS FOR HOT CEREALS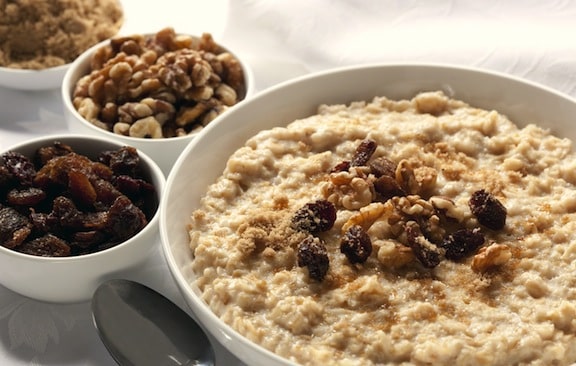 Non-dairy milk: Once hot cereals are cooked, you can add a little nondairy milk to the saucepan and cook until it absorbs to give the grain a creamier texture.
Liquid or crystal sweeteners: Maple syrup, rice syrup, agave nectar, or barley malt can all be used for sweetening. Or use an organic natural sugar, Sucanat®, coconut sugar, or date sugar.
Dried fruits: Dark or golden raisins, cranberries, cherries, currants, or chopped apricots, dates, or Turkish figs, or diced dried tropical fruits are all worth a try mixed into hot cereals.
Fresh fruits: Banana, strawberries, and blueberries are naturals with hot or cold cereals. In the winter, lightly cooked apples and pears are wonderful with hot cereals as well.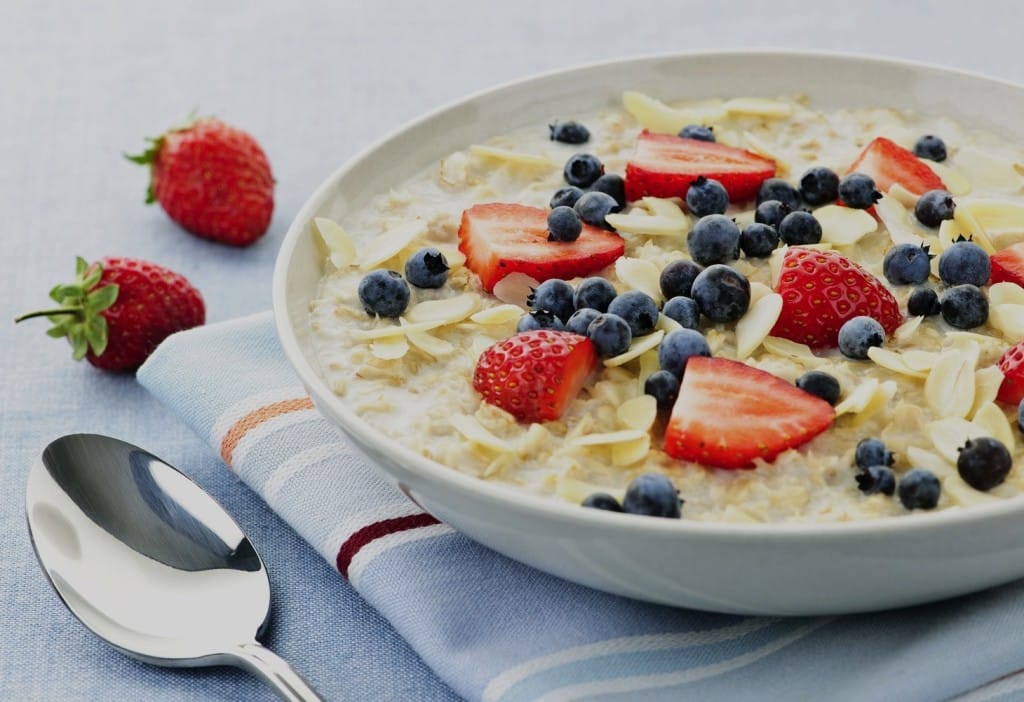 Nuts and seeds: Toasted slivered or sliced almonds, chopped walnuts or pecans, and sesame and sunflower seeds are all good for sprinkling on hot cereals.
Wheat germ, ground flaxseeds, hemp seeds, and chia seeds: All of these provide concentrated nutrition; wheat germ is an excellent source of Vitamin E and the B vitamins; the seeds do as well, and are good plant sources of valuable Omega fatty acids.
Spices: Ground cinnamon gives a lively flavor boost to sweetened hot cereals; ground nutmeg works, too, in small doses. Organic sweetened cocoa mix is a favorite topping of my husband's; maybe some of your family members would enjoy the same.
Vegan buttery spreads and/or nondairy cheeses: Some people like their hot cereals with a sweet theme; others prefer savory, with vegan cheese and/or vegan butter. Daiya and Vegan Gourmet are two great non-dairy cheese choices. If you're going for a sweeter effect, you can, of course, also melt a bit of nonhydrogenated vegan buttery spread (like Earth Balance or Melt) into the hot cereal for added richness.