If you keep up with food trends, you've likely heard about farro, one of several ancient grains that have made a comeback in recent years. Farro takes its place among grains like quinoa, einkorn, kañiwa, teff, and others that have been around for millennia, and which have become more widely available in the general marketplace. Following are tips on how to cook farro and enjoy it in recipes.
While farro is new to most of us, it's believed to be one of the most ancient of wheat varieties, along with einkorn. And like einkorn, it's lower in gluten than modern varieties of wheat, though please note, not gluten-free. Shown at top, Spring Farro Asparagus Salad.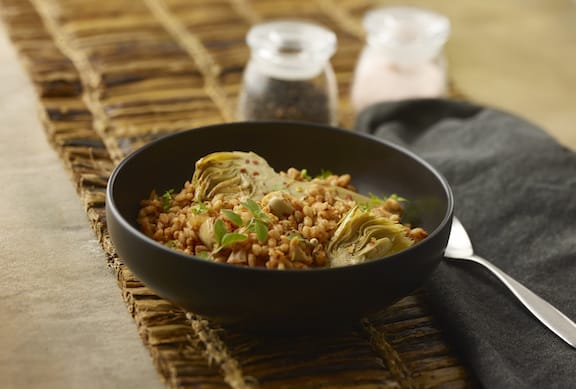 Taste, texture, and varieties
If we're to compare farro with any other grain, it might be whole-grain barley, before it's pearled (sometimes called pot barley). It's chewy, hearty, and like other whole grains has a mild, nutty flavor. It's hard to overcook it, and it rarely gets soggy, like rice can. For that reason alone, farro is a great addition to soups and stews, and is a stellar addition to salads.
Like barley, farro comes in whole grain, pearled, and semi-pearled varieties. What you choose is a matter of preference, though as with other grains, the whole grain type has the most fiber and vitamins.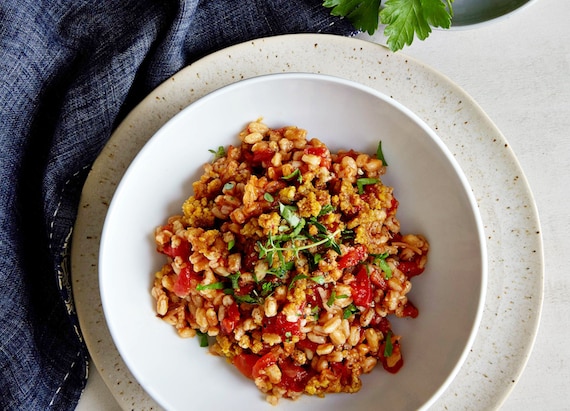 Baked Farro with Tomatoes and Herbs
How to Cook Farro
Farro can be cooked in a large saucepan on the stovetop; it can also be prepared in a pressure cooker to reduce cook time or even in a rice cooker. See links at the end of this section
For stovetop cooking, it's often recommended that you soak the grain overnight or for several hours, as a way of reducing cook time. One easy way to do this is to combine the grain in a 1- to 3- ratio with water (or vegetable broth, for more flavor) in a deep saucepan. For example, 1 cup grain to 3 cups water or broth. Bring to a slow boil, then cover and leave off the heat on the stovetop for as long as you can.
To finish cooking, bring to a slow boil once again, then simmer gently with the cover ajar for 15 minutes; if it's al dente to you're liking, you're done (drain off any excess liquid). If you'd like less resistance to the bite, add another ½ cup liquid and continue to cook for 10 minutes longer.
No time to soak? No worries. Honestly, farro hardly takes longer to cook than brown rice. Simply follow the directions above, minus the soaking, and the grain will be done in about 30 minutes, give or take 10 minutes in either direction. This depends on the level of heat, of course, but also whether you're using the whole grain or the pearled or semi-pearled variety.
Here are some alternative cooking methods:

Super-Quick Grain-Stuffed Peppers using quick-cooking farro
Quick-Cooking Farro
Good news — it's easy to find quick-cooking farro. Unlike quick-cooking rice, which can sometimes seem a bit off in terms of texture, quick-cooking farro is practically indistinguishable from the plain grain. Quick-cooking farro can often be found in the Italian food section of well-stocked supermarkets; it's also available at Trader Joes. and generally takes not more than 15 minutes to cook from start to finish.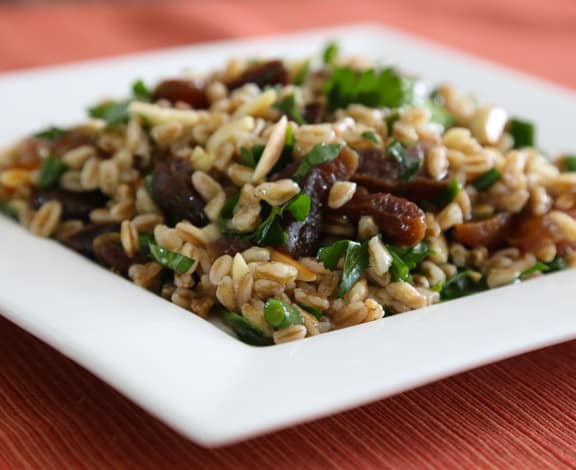 Barley or Farro Salad with Almonds and Apricots 
Ways to Use Farro
1  Use farro interchangeably with barley. Mushroom-barley soup? Swap in an equal amount of farro. Barley salad? Ditto.
2  Substitute farro for brown rice as a change of pace grain to serve as a side dish or as a bed of grains for bean or vegetable dishes.
3  As mentioned, farro is an excellent grain for hearty grain salads.
4  Combine leftover farro with nondairy milk, maple syrup, fresh or dried fruit, cinnamon, and toasted nuts for a breakfast bowl that will keep you satisfied for hours.
5  Boost your roasted vegetables with a cup or so of cooked farro. About halfway through the baking time, stir the farro in with the veggies and let it get nice and toasty as the veggies roast.
6  Farro has been particularly embraced in Italian cuisine, though there's nothing specifically Italian about it. You can think about using it in place of pasta in some dishes, with a flavorful marinara sauce.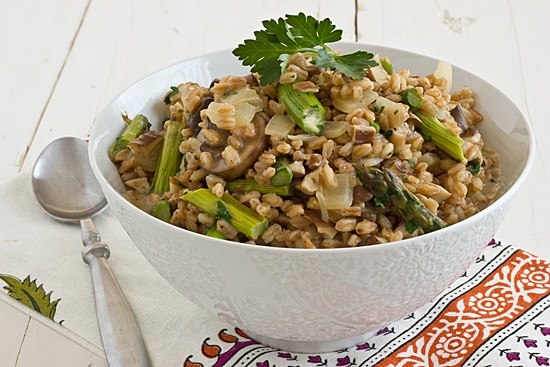 Farro Risotto from OhMyVeggies
Buying Farro
Look for faro in bulk at natural foods stores; or if you don't see it in the bulk section, look for Bob's Red Mill packaged farro with the other products from this brand or shelved with whole-grain breakfast cereals. As noted earlier, you might find quick-cooking farro in the Italian foods section of well-stocked supermarkets. If all else fails, you can order it online. Here's the Amazon page with various brands of faro.
Nutritional Value of Farro
Farro is a superior grain in terms of nutrition. It's an excellent source of iron and is high in fiber. It contains no cholesterol or sugars, is very low in fat, and as far as grains go, is a good source of protein and has a small but significant amount of calcium.