Stuffed peppers seem like such a fancy thing to make, something you'd serve at a special occasion or a holiday meal. And yes, they can be all that. But quick grain-stuffed peppers can also be made for everyday meals with little fuss. The secret is using tasty, all-natural pilaf mixes, which have so much flavor that there's no need to measure and mix a multitude of seasonings; no need to do anything other than follow package directions.
Once you stuff these pilafs into prepared peppers, you need not even cook or bake them any further. For this dinner hack, we used a delicious porcini-flavored quick-cooking farro pilaf mix, but you can also use quick rice or couscous pilafs (not all are vegan so check labels).
The nice thing about this meal is that everything else can be made in the 15 or 20 minutes that the flavorsome pilaf cooks. Stuffed peppers usually bake in the oven, but here we steamed the peppers in a skillet for about 12 minutes (you can microwave them, if you prefer), and then just loaded them up with the cooked pilaf just before serving.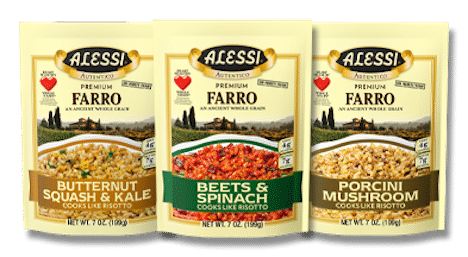 We used the Alessi Porcini Mushroom variety at right, above, but you can also use any vegan Near East brown rice pilaf blend, such as the varieties shown below, or the ones based on couscous. But don't limit yourself to these; there are lots of quick-cooking whole grain blends to be found in your supermarket or natural foods store.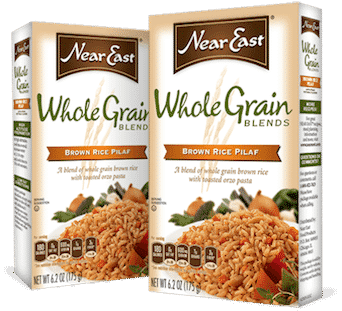 For an accompaniment to the stuffed peppers, we combined some goodies from the supermarket's olive bar with fresh red and yellow grape tomatoes and chickpeas. You can boost the flavor with a little olive oil and vinegar, or serve as is.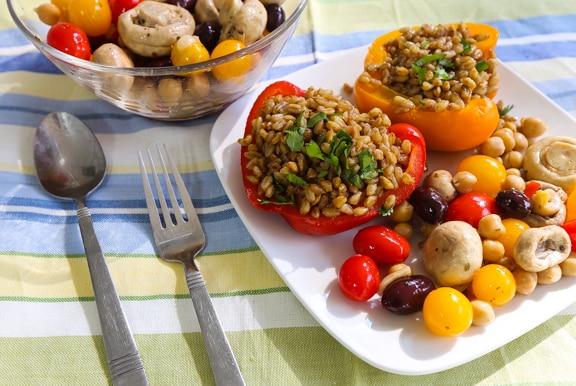 Serves: 3 or more
6- to 7-ounce box or package whole-grain quick-cooking pilaf mix

1 tablespoon extra-virgin olive oil

3 medium bell peppers

Fresh herbs (parsley, cilantro, scallions, or basil) for garnish
1  Cook the pilaf according to package directions. When done, stir in the olive oil.
2  Meanwhile, cut around the stem end of the peppers and twist the stem out and discard. Cut the peppers in half and clean out the seeds and membranes.
3  To cook the peppers in a skillet: Place in a large skillet with about ½ inch of water and steam, covered, or until tender but not overdone, about 10 to 12 minutes. Flip them over about halfway through the time. To microwave: Place the peppers in a heatproof container with about ½ inch of water. Cover and microwave on High for 5 minutes; test, then add a minute at a time until tender but not overdone.
4  Stuff the pepper halves with the cooked pilaf. Garnish with chopped fresh herbs and serve at once.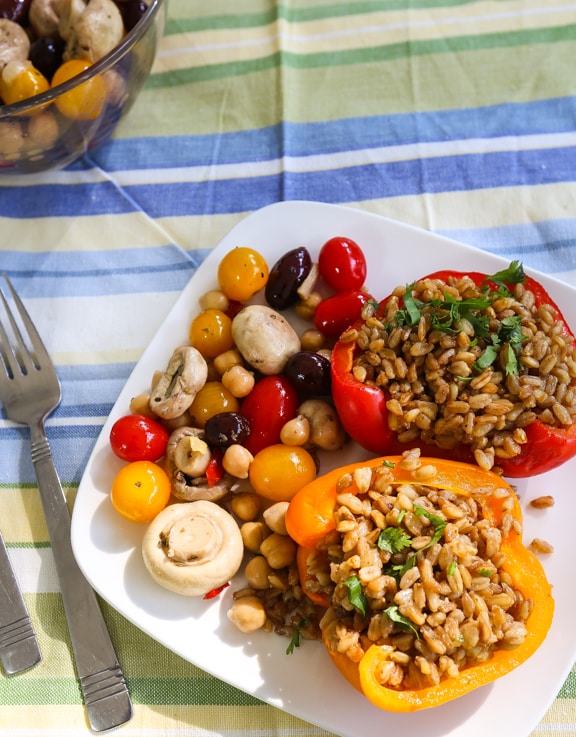 Photos: Evan Atlas