Here are a few great ways to turn plant-based ingredients into an animal-free alternative to bacon. That bacon-y smell and flavor that drives people crazy can be replicated by making a simple marinade with just a few ingredients. When you see how easy it is to make almost anything taste like (vegan) bacon, have fun and try this with other foods.
Even if these preparations aren't exactly like bacon, and admittedly, they're not, their flavors and aromas are addictive in their own right — sweet, salty, and smoky. Anything you cook like this will disappear quickly.
Here's what you need to make the marinade. It's enough for about 8 ounces of whatever you're cooking. You'll find liquid smoke and barbecue seasoning in the spice section of well-stocked supermarket. There's often a section of barbecue seasonings. Check labels carefully; they're not all vegan!
1 ½ tablespoons maple syrup

1 tablespoon liquid aminos or soy sauce

1 tablespoon neutral vegetable oil

1 tablespoon liquid smoke

1 to 2 teaspoons mesquite or barbecue seasoning
Combine the first 4 ingredients in a fairly wide skillet. Stir to combine. When the mixture start to get bubbly, add about 8 ounces of whatever you're cooking. See individual tips below.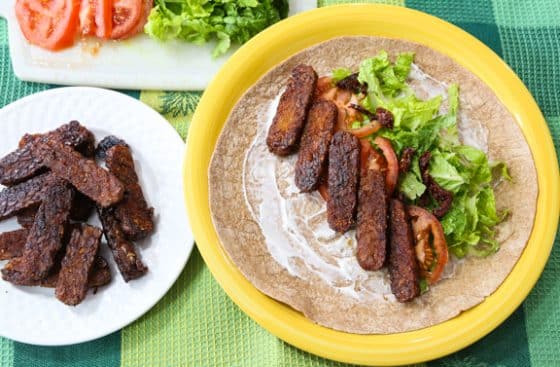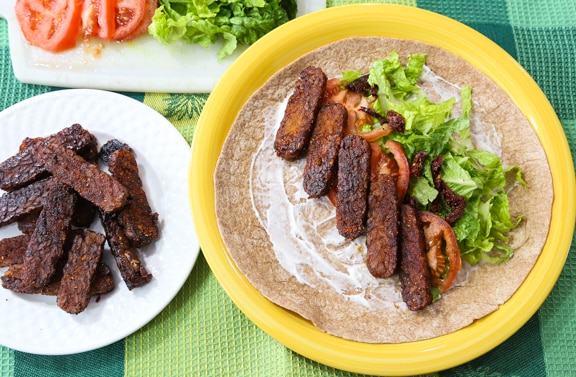 Tempeh
Homemade tempeh bacon is delicious made into TLT sandwiches or wraps, or served alongside tofu scrambles or vegan pancakes. For a specific recipe, see Tempeh Bacon, Lettuce, and Tomato Wraps.
1  Combine and heat the marinade as described above. Cut the block of tempeh into ¼-inch slices crosswise.
2  Arrange in the skillet in a single layer in the skillet, then Turn the slices over nearly as soon as they go in. Cook over medium-low heat for 4 to 5 minutes, or until the under side is starting to brown, then turn the slices over again. Continue to cook until the second side is starting to brown as well.
3  Sprinkle in the seasoning, then stir everything up with a spatula until the seasoning is well distributed. Remove from the heat; taste and see if you'd like to add more of any of the other flavorings.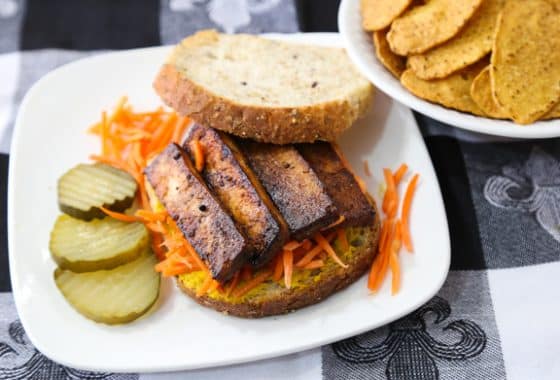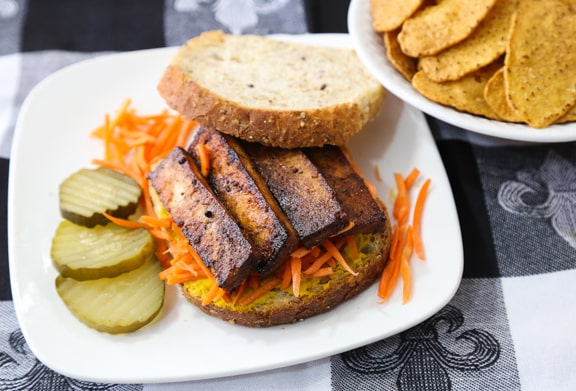 Tofu
The amount of marinade given above is enough for half of a 14- to 16-block of tofu, so if you want to use the entire block, double the amount of marinade and cook in two batches.
First, you'll need to cut the tofu into 4 slabs crosswise, then blot or press well. Cut these into thin, bacon-shaped slices, and then follow the directions for tempeh, above.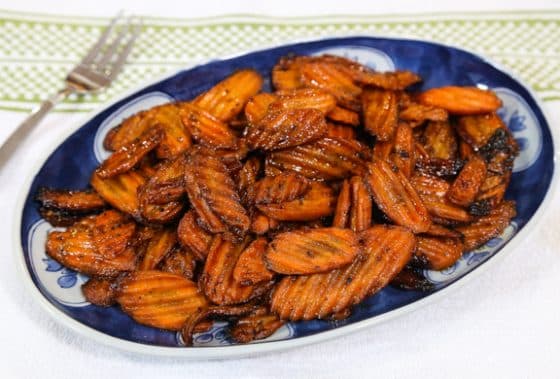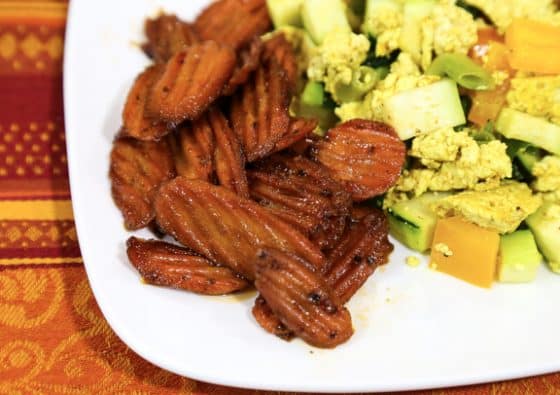 Wavy-cut carrots
Layer bacon-flavored wavy-cut carrots into sandwiches or wraps, or serve alongside scrambles. They usually come in16-ounce bags, so for the amount of marinade given above, use half. If you want to make more, do so in two batches — make another batch of the marinade above to cook with the rest of the carrots.
1  Combine and heat the marinade as described above. Add the carrots and stir to coat with the mixture in the skillet.
2  Turn the heat up to medium and cook, stirring occasionally until most of the liquid is absorbed (this should take about 8 minutes).
3  Turn the heat up to medium high and continue to cook, stirring frequently, until the carrots turn crisp and are touched with brown spots. Taste to see if you'd like to amp up any of the flavorings.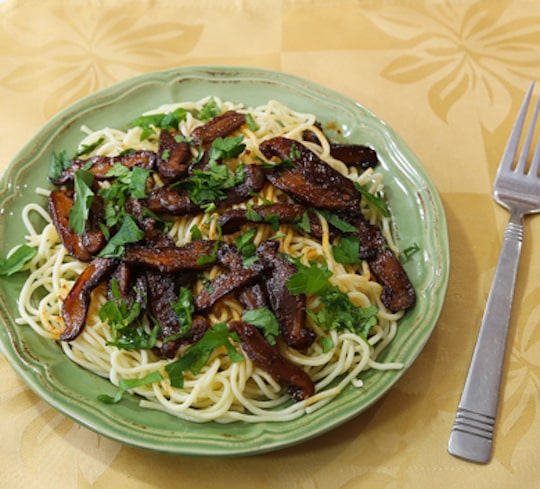 Shiitake mushrooms
These are my favorite! Somehow the mouth feel and texture of these is so very appealing. For shiitake mushrooms, simply follow the same directions as for the wavy-cut carrots, above. Like anything else here, you can use them in sandwiches or wraps, but they're fantastic as an embellishment for simple pasta and grain dishes.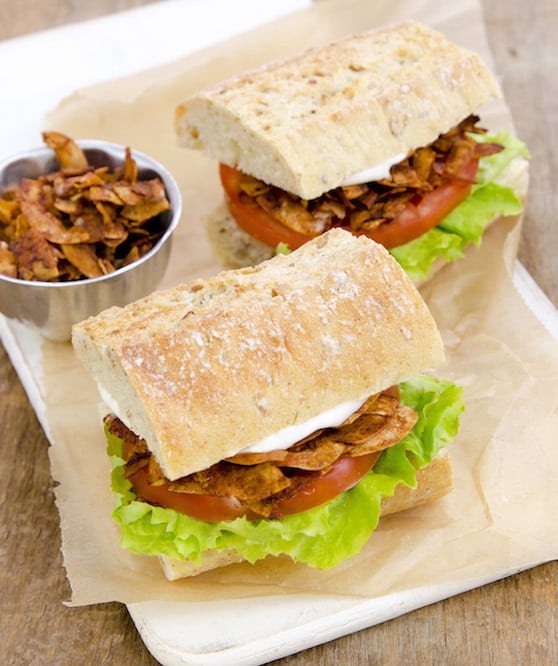 Coconut
Large coconut flakes are a great backdrop for bacon-y flavors. Coconut has natural fat and the flakes absorb seasoning well. Link through to Dreena Burton's "Baconut" which follows a somewhat different formula, but is just as delectable.
What else can we turn into plant-based bacon? I'm thinking of jackfruit, chopped sun-dried tomatoes (these might turn out like bacon bits). If you have any ideas, let us know!