This easy hummus, cucumber, and avocado wrap recipe is as good for dinner as it is for lunch (or even breakfast, for that matter …). You can use homemade hummus or store-bought; either way, it's made in minutes. For lunch, serve with plenty of fruit; for dinner, serve with soup  and/or a simple side dish. It goes well with quinoa tabbouli, or any potato salad. And you need not slavishly follow a recipe, either — make enough for one, or as many as needed. Photos by Lori Maffei.
Makes as many as you need
Soft whole-grain wrap or wraps (works with lavash bread as well)
Hummus — your favorite kind, homemade or store-bought
(I highly recommend olive hummus with this!)
Thinly sliced cucumbers, as needed
Thinly sliced tomatoes, as needed
Thinly sliced peeled avocado, as needed
Thinly shredded romaine lettuce, mixed baby greens
baby spinach, baby arugula, or a combination
Place a room-temperature wrap on a plate or cutting board. Spread generously with hummus (though not so much that it will ooze from the sandwich). Arrange a row each of cucumber, tomatoes, and avocado down the center. Cover with a big handful of the leafy greens of your choice.
Fold two opposite sides of the wrap over the center, then roll up snugly, making sure the ends stay tucked in. Cut in half to serve.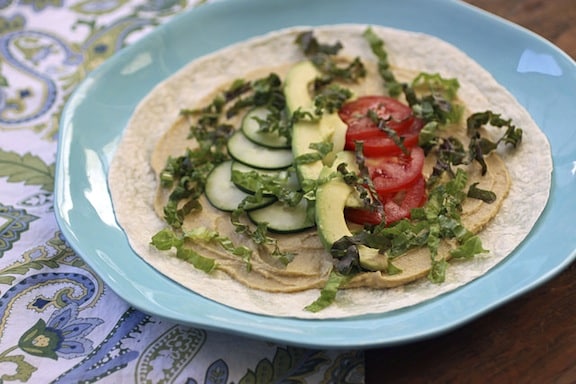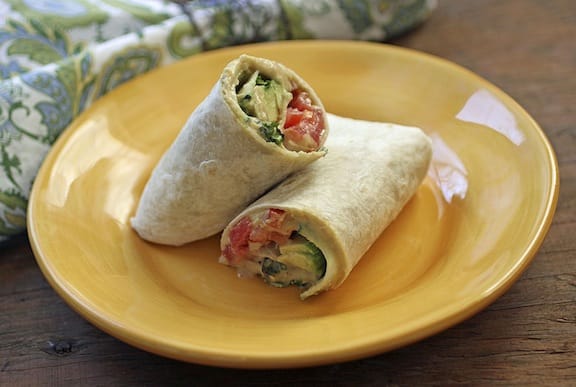 Nutritional Information:
Per serving (estimate, depending on how much you load into your wrap): 389.7 calories; 19g fat; 644mg sodium; 817.2mg potassium; 45g carbs; 13g fiber; 2.8g sugar; 13.4g protein