A tostada is simply a crisp tortilla piled with layers of toppings, often including beans, crisp lettuce, and salsa. In its own unique way, it's practically a one-dish meal, giving you your protein, carb, and salad in one neat (or to be honest, a little messy) package. Let's make black bean tostadas, an already easy dinner dish, even easier by using Amy's Chili, and your favorite salsa for all the flavor you'll need. If you like your food hot, go for a spicy variety. I prefer one with a hint of fruitiness — mango or peach salsas are great with these!
If you'd like to add to the meal, consider simple steamed vegetables or corn on the cob; or microwaved sweet potato. Any way you serve these tostadas, they make an easy weeknight meal or a fun way to feed company. Everyone assembles their own, and everyone ends up happy (and full).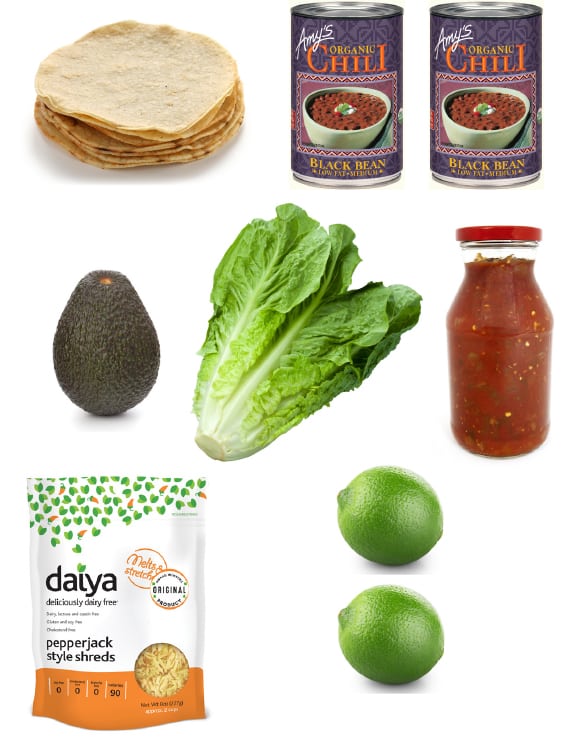 What You'll Need
1 package good-quality corn tortillas

1 or 2 cans any variety Amy's Chili (one can will cover 4 tostadas)

1 medium ripe avocado

Romaine lettuce

Salsa (your favorite kind)

Vegan cheese shreds, any flavor (optional)

2 limes
What to do
1  Toast the tortillas (allow two per person): In the oven: Preheat to 375º F. Spread the tortillas on a baking sheet. Bake for 10 minutes, or until crisp and dry and just starting to be touched with golden brown spots.
On the stovetop: Heat a large skillet. Toast the tortillas over medium heat (two or three at a time, depending on the size of the skillet) for about 5 minutes or so on each side, until crisp and touched with golden brown spots. Whether oven or stovetop, let them get nice and crisp; it's better than ending up with a soggy tostada.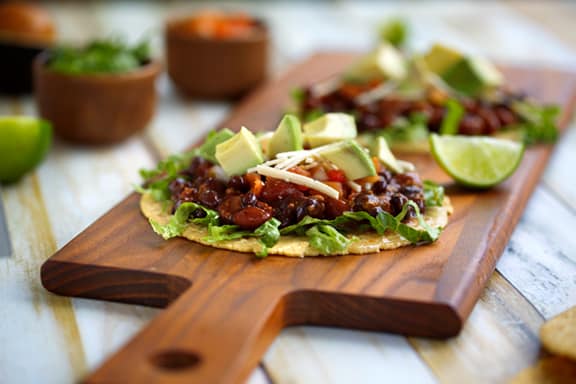 2  In the meantime, heat the chili in a saucepan until piping hot. Use one can to make four tostadas; two cans for eight tostadas.
3   Peel and dice the avocado. Cut the limes into wedges. Place them in individual small bowls, and do the same with the shredded lettuce, salsa, and vegan cheese shreds (if using).
4  Let everyone assemble their tostadas as follows: A layer of shredded lettuce; the warmed chili; salsa; optional cheese shreds, and avocado. Finish with a squeeze of lime over it all.
5  Have everyone pick up their black bean tostadas and eat out of hand (with plenty of napkins!).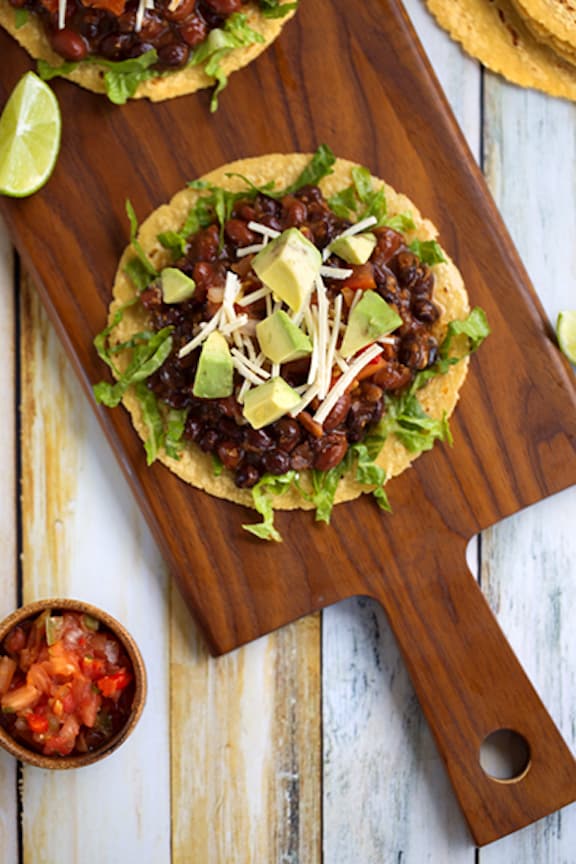 Enjoy more of our vegan food hacks!