Lentil and Kidney Bean Curry is a traditional Indian dish that combines two tasty and high-protein legumes. And while it usually doesn't need to be veganized, in our minds, it needs to be simplified, as the typical recipe has 15 to 20 ingredients — a great percentage of them spices. Lots and lots of spices.
We couldn't have been more thrilled when an array of full-bodied Indian simmer sauces burst on the market — you can have your pick whether at a natural foods store or in the supermarket's international aisle. From mild coconut-based blends to hot jalfrezi sauces, many are also vegan (at least an equal number contain dairy, so check labels.
For this instant lentil and kidney bean curry, we chose to go spicy with jalfrezi, but use whatever kind of sauce you prefer. Serve with rice, couscous, or quinoa.
Serves: 4
Time to table: 10 minutes
What you need
15-ounce can brown lentils, drained and rinsed

15-ounce can kidney beans, drained and rinsed

2 to 3 scallions, sliced

12-to 16-ounce jar Indian simmer sauce, your favorite variety

Cilantro as desired (save some for garnish)
What to do
1  Combine all of the ingredients in a saucepan and bring to a simmer. Cook gently for 5 to 7 minutes, until piping hot.
2  Transfer to a serving container or serve straight from the pan with or over hot cooked grain. Garnish the dish or each serving with extra cilantro. Now, that was easy, wasn't it?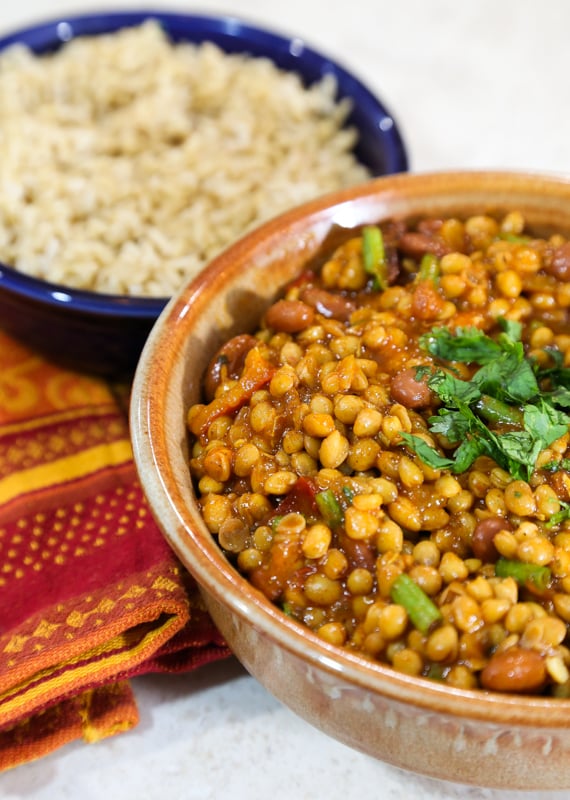 Photos: Evan Atlas