This delightful pilaf/salad combining Israeli couscous, tomatoes, avocado, and stone fruit is from Vegan Holiday Kitchen.* Israeli couscous is one fun little pasta. It's round and quick-cooking, and has a very pleasant mouth feel. Look for it in bulk in natural foods stores, or in the Middle Eastern section of the international aisle in well-stocked supermarkets. Photo by Susan Voisin, FatFree Vegan Kitchen.
Combined with herbs, raw veggies, and lush stone fruit, it' a light and refreshing foil to grilled foods or well-seasoned plant-based protein dishes. It also makes for a lovely dish to share when you're invited to a summer potluck. Make sure to use a firm, flavorful cucumber with a minimum of seeds. Hothouse cucumber is a good choice for this if you can't get a small, firm variety straight from the garden or farm market.
Serves: 8 or more
1 ½ cups Israeli couscous (see Note for gluten-free variation)
1 heaping cup cucumber, quartered and thinly sliced
1 large stalk celery, strings removed and diced
2 scallions, minced
¼ cup minced fresh dill, or more, to taste
10 to 12 basil leaves, thinly sliced, or more, to taste
4 medium firm, ripe  apricots or 3 medium ripe nectarines, pitted and diced
1 heaping cup halved cherry or grape tomatoes (red or yellow, or a combination)
1 medium firm, ripe avocado, peeled and diced
3 tablespoons extra-virgin olive oil (or less if you'd like a lower fat dish)
2 to 3 tablespoons lemon juice, or more, to taste
Salt and freshly ground pepper to taste
Mixed baby greens, as needed
¼ cup toasted pine nuts or ⅓ cup toasted slivered almonds
Bring 5 cups of water to a boil in a medium saucepan. Add the Israeli couscous and cook at a rapid simmer for about 8 minutes, or until al dente. Drain and rinse with cool water until the couscous is at room temperature.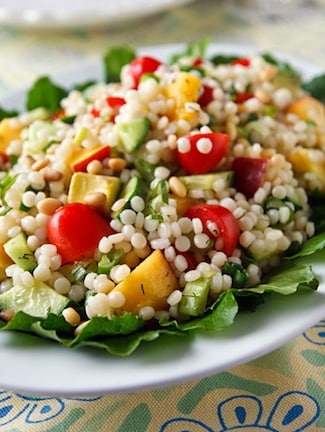 In a mixing bowl, combine the couscous with the remaining ingredients except the last two. Toss well to combine.
Line a large serving platter with some greens. Mound the salad over them, letting some of the greens show along the edge. Sprinkle the top with the toasted nuts. Serve at once or cover loosely with plastic wrap and refrigerate until needed.

Note: This can be made gluten-free by replacing couscous with quinoa (use 1 cup raw quinoa). It will be a different sort of pilaf/salad, but still good!
*This post contains affiliate links. If the product is purchased by linking through this review, VegKitchen receives a modest commission, which helps maintain our site and helps it to continue growing!