Richly sweetened with all-fruit preserves, these bars are a fun treat for kids and adults alike. Serve them with tea for a grown-up treat, or as an after school snack with almond or other non-dairy milk, or vegan hot cocoa. If you bake them in the evening, they can serve as a quick breakfast with a fruit smoothie. Of course, you can replace the peanut butter with another, favorite nut butter.
Makes: 8 or 9 bars
¾ cup whole wheat pastry flour
¼ cup quick-cooking oats
¼ cup natural granulated sugar
½ teaspoon baking soda
½ teaspoon cinnamon
⅓ cup applesauce
¼ cup natural peanut butter, at room temperature
(smooth or chunky, nice and flowing)
2 to 4 tablespoons nondairy milk (rice, almond, etc.), as needed
¾ to 1 cup all-fruit preserves (strawberry, peach,
apricot, or any favorite variety)
Streusel topping:
⅓ cup quick-cooking oats
1 tablespoon natural granulated sugar
2 teaspoons neutral vegetable oil (like safflower)
or melted Earth Balance
Preheat the oven to 350 degrees F.
Combine the flour, oats, sugar, baking soda, and cinnamon in a mixing bowl. Stir together.
Make a well in the center of the dry ingredients and add the applesauce, peanut butter, and 2 tablespoons of the nondairy milk. Stir together until the wet and dry ingredients are thoroughly combined. This should be a stiff batter, but add a little more nondairy milk if the dry ingredients aren't well coated.
Transfer the batter into a lightly oiled 9- by 9-inch baking pan, and pat in evenly with the back of a spatula. Carefully spread the preserves evenly over the batter.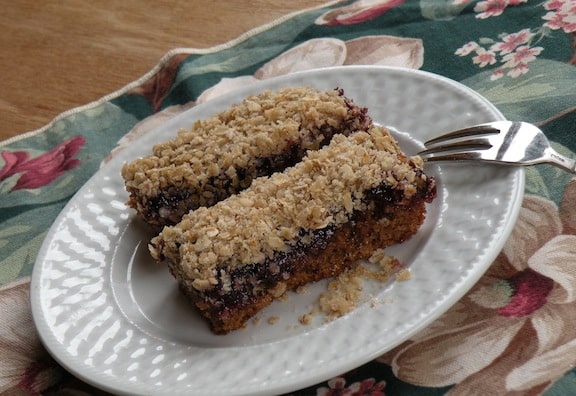 In a small bowl, combine the ingredients for the streusel topping and stir together until evenly coated with the oil. Sprinkle evenly over the preserves, and pat down gently.
Bake for 25 to 30 minutes or until the topping is golden, and a knife inserted comes out without any of the batter.
Allow to cool until just warm, then cut into four sections in one direction, and 2 sections in the other to make 8 bar-shaped pieces, or just cut into 9 even squares.