Coconut milk plus lots of onion and scallion add up to a creamy and tasty sauce for this mildly spicy bean dish. I like to cook my beans from scratch with a sea vegetable to enhance their digestion and add minerals, but if you prefer, you can start with canned beans and skip the first step. Either way, this comes together quickly once you have the beans on hand. Serve with rice, steamed vegetables, and/or a green salad for a fine meal. Recipe contributed by Leslie Cerier. Photos by Tracey Eller.
Serves: 4
1 cup dried kidney or other red beans (dried; soak overnight and rinse well
before cooking)  or two 15- to 16-ounce cans, drained and rinsed
2 tablespoons kelp flakes (if cooking beans from scratch
3 cups water
2 tablespoons extra-virgin olive oil*
1 cup coarsely chopped onion
1 cup coarsely chopped scallions, white and green parts
5 cloves garlic, sliced
¼ teaspoon ground chipotle or hot red pepper flakes, 

or more, to taste

1 cup light coconut milk*
¼ teaspoon ground allspice
½ teaspoon fine sea salt, or to taste
½ cup chopped fresh cilantro
Drain the soaked beans and rinse well. Place beans, kelp flakes and 3 cups of water in a 4-quart stockpot. Bring to a boil, then reduce the heat to medium-low. Simmer covered for 1 hour, or until beans are soft.
In a large skillet, heat the oil over medium heat. Add the onion and sauté until nearly golden. Add scallions, garlic, and pepper flakes, and sauté for 2 minutes longer, or until the scallion greens turn bright green.
Add the cooked beans, coconut  milk, and allspice to the skillet. Season gently with salt, and adjust the seasonings, if desired.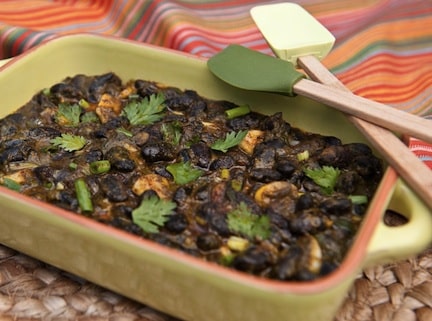 Simmer for 5 minutes longer, or until the coconut milk thickens up a bit. Transfer to a serving container and garnish with cilantro, or garnish with cilantro and serve straight from the skillet.
* Leslie developed this recipe for Nutiva and recommends using ½ cup Nutiva Organic Coconut Manna™ plus 1 cup water in place of the coconut milk for a change of pace, and / or Nutiva Organic Red Palm Oil in place of the olive oil.