As everyone knows, greens are good for you, and with its high calcium content, kale is a standout. In this stew, the deep greens contrasted with the yellow of the squash and the orange of the sweet potato, makes this an attractive and nourishing dish for the autumn harvest. 
Serves: 6 to 8
1 tablespoon olive oil
1 medium-large red onion, chopped
2 to 3 cloves garlic, minced
2 to 3 medium sweet potatoes, peeled and diced
32-ounce carton low-sodium vegetable broth
(or 4 cups water with 2 vegetable bouillon cubes)
8- to 10-ounce bunch kale (curly or lacinato)
1 medium or 2 small yellow summer squashes, diced
(remove seedy parts if desired)
1 to 2 fresh hot chile peppers (such as jalapeño), seeded and minced, optional
3 medium ripe tomatoes, diced
2 teaspoons ground cumin
2 teaspoons dried oregano
2 teaspoons chili powder
Salt and freshly ground pepper to taste
¼ cup minced fresh cilantro or parsley, or more, to taste
Hot cooked brown rice or quinoa, optional
Heat the oil in a soup pot. Add the onion and sauté over medium-low heat until translucent. Add the garlic and continue to sauté until both are golden.
Add the sweet potatoes and broth to the soup pot. Bring to a rapid simmer, then lower the heat. Cover and simmer gently for about 10 minutes, or until the sweet potatoes are just about done.
Meanwhile, trim away the stems from the kale leaves. Slice them thinly or discard them. Chop the kale into bite-sized pieces and rinse well in a colander.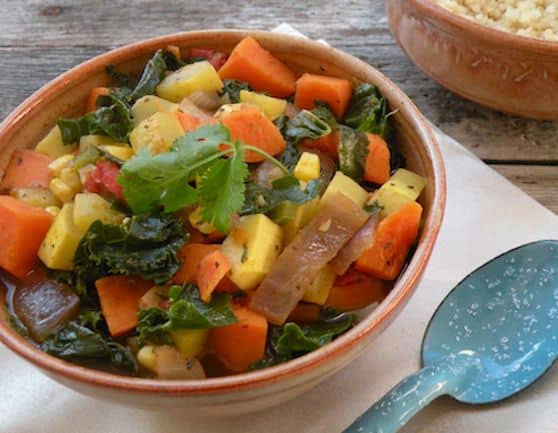 Stir in the kale, squash, tomatoes, chile peppers into the soup pot along with the cumin, oregano, and chili powder. Simmer until the kale and squash are tender, about 10 to 15 minutes longer.
Season with salt and pepper and stir into the cilantro. Taste, and see if you'd like to add more of the other seasonings. If time allows, let the stew stand off the heat for an hour or two. You might lose some color as far as the greens, but there will be more flavor.  Heat through before serving.
Variation: If you'd like an even heartier stew, add 1 /2 to 2 cups cooked or one 15-to-16-ounce can (drained and rinsed) and/or a cup or so of fresh corn kernels.