Filling and hearty, the lemony flavor and the slender green beans give this bulgur dish a fresh flavor. It's ideal to make when fresh slender green beans are on the market. That's quite a fleeting moment, so feel free to substitute whole organic baby green beans when good fresh ones are unavailable. Serve with a colorful salad and some corn on the cob for a simple meal. Photos by Hannah Kaminsky. 
Serves: 6 to 8
¾ cup raw bulgur (presteamed cracked wheat)
2 tablespoons olive oil
1 large onion, quartered and sliced
2 cloves garlic, minced
1 cup sliced white or baby bella mushrooms
15-ounce can navy or cannellini beans, drained and rinsed
¼ cup finely chopped walnuts, or more, as desired
2 to 3 tablespoons minced fresh dill
Juice of 1 lemon, more or less to taste
2 tablespoons reduced-sodium soy sauce, or to taste
Freshly ground pepper to taste
2 cups slender green beans, cut into 1-inch lengths and steamed
until bright green and  tender-crisp
Lemon slices for garnish, optional
Place the bulgur in a heatproof dish. Pour 1 ½ cups of boiling water over it and cover until the water is absorbed, about 20 minutes. Fluff with a fork.
Heat the oil in a large skillet or stir-fry pan. Add the onion and sauté until translucent. Add the garlic and continue to sauté until the onion is lightly browned.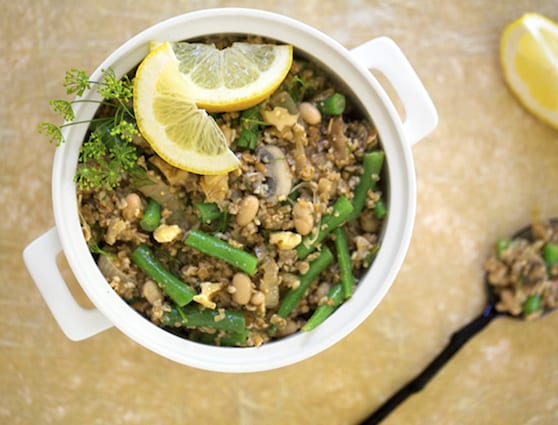 Add the mushrooms; cover and sweat until they're wilted. Stir in the bulgur and all remaining ingredients except the green beans. Cook over low heat, stirring frequently, for 10 minutes.
Transfer to a serving container and stir in the green beans. Taste to see if you'd like to add more lemon juice, salt and/or pepper, then serve.
Nutrition information
Per serving: Calories: 164;  Total fat: 4g;  Protein: 6g: Carbs: 26g; Sodium: 292 mg