This simple combination of couscous and broccoli, bright with lemony flavor, be too light to serve as a meal's centerpiece, but it's perfect for pairing with a dish of equal heft, like a bean or legume dish, or a main dish salad. I've also enjoyed leftovers of this served cold in a wrap with shredded lettuce and sliced tomatoes. Photos by Evan Atlas.
Serves: 6
¾ cup couscous, preferably whole grain

2 tablespoons extra-virgin olive oil

1 medium red or yellow onion, quartered and thinly sliced

3 cups finely chopped broccoli florets

¼ to ½ cup minced fresh parsley

2 tablespoons minced fresh dill, or 1 teaspoon dried

Juice of 1 lemon (plus its zest, optional but highly recommended)

⅓ cup sliced sun-dried tomatoes (oil-cured or not, as preferred)




or chopped pitted cured black olives

Salt and freshly ground pepper to taste
Combine the couscous with 1 ½ cups boiling water in a heatproof container. Cover and let stand for 10 minutes, then fluff with a fork.
Meanwhile, heat half of the oil in a large skillet. Add the onion and sauté over medium heat until golden.
Add the broccoli and just enough water to keep the bottom of the skillet moist, then cover and allow to steam until the broccoli is bright green and tender-crisp, about 4 minutes.
Add the cooked couscous to the skillet along with the herbs, lemon juice (and optional zest), and dried tomatoes or olives. Stir together well, and cook for 2 or 3 minutes longer.
Season with salt and pepper and serve hot, warm, or at room temperature.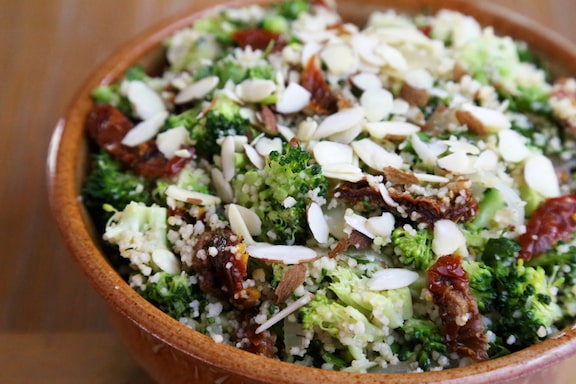 Nutrition Information:
Per serving: 170 calories; 7g fat; 50mg sodium; 24g carbs; 3g fiber; 5g protein