The magic in these vegan muffin recipes is that they use no eggs or dairy, but instead use applesauce as a binding and fat substitute. It's a great healthy baking technique, making the muffins amazingly moist while greatly reducing the need for added fat. Kids love muffins, and by using wholesome ingredients, they become a great substitute for sandwiches for school lunches, as well as serving as any time snacks.
Muffins are best eaten within a day or at most two after they are baked, so if you're not going to be feeding a crowd of hungry muffin fans, I suggest either freezing half of them, or halving the recipe. Recipe adapted from The Vegetarian Family Cookbook* by Nava Atlas. Explore other muffin recipes in Muffin Mania.
Makes one dozen
2 cups whole wheat pastry flour
2 tablespoons wheat germ or ground flaxseeds
2 teaspoons baking powder
1 teaspoon baking soda
⅓ cup natural granulated sugar
1 cup applesauce
2 tablespoons safflower oil
⅓ cup plain or vanilla nondairy milk, or as needed
½ to 1 teaspoon cinnamon, to taste
Your favorite add-ins (see ideas, following)
Preheat the oven to 350 degrees F.
Combine the first 5 (dry) ingredients in a mixing bowl and stir together.
Make a well in the center of the flour mixture and pour in the applesauce, oil, and enough milk to make a smooth, stiff batter. Stir together until thoroughly combined.
Stir in the additional ingredient or ingredients of your choice (see following), then divide the batter among 12 foil-lined muffin tins.
Bake for 20  to 25 minutes, or until the tops of the muffins are golden and a knife inserted into the center of one tests clean. When cool enough to handle, transfer the muffins to a plate or rack to cool. Serve warm or at room temperature.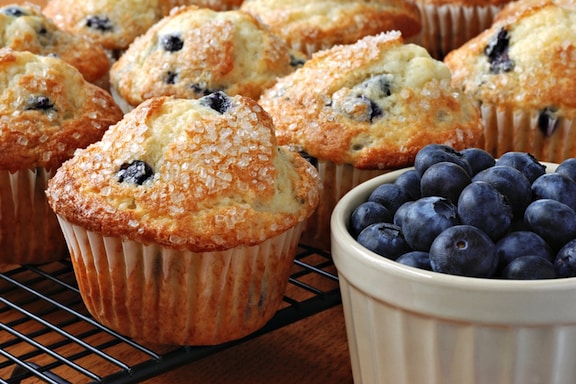 Additional ingredients for muffins:
Here are a few simple suggestions for additions to the basic muffin recipe. Be creative and see what ideas you can come up with!
1. Raisin or Dried Cranberry Muffins, With or Without Nuts: Add ¾ cup raisins or dried cranberries and ¼ to ½ cup finely chopped walnuts.
2. Berry Muffins: Add 1 cup of fresh or frozen blueberries (small wild blueberries work particularly well in muffins), or 1 cup of very sweet chopped fresh strawberries, or the equivalent of drained, frozen strawberries.
3. Chocolate Chip Muffins: Add ¾ to 1 cup of semi-sweet chocolate chips or mini-chips.
4. Cocoa Muffins: Add ¼ cup unsweetened dry cocoa. Add nuts and/or raisins or other dried fruit to these as well.
5. Pear and Golden Raisin or Dried Apricot Muffins: Add ½ cup each finely chopped ripe pear and golden raisins or dried apricots.
6. Dried Fruit or Fruit-Nut Muffins: Add ⅔ cup finely chopped mixed dried fruits, such as apricots, dried apple, dates, mango, and papaya, and ¼ to ½ cup chopped walnuts or pecans.
7. Banana Muffins: Add 1 medium chopped banana, and any or all of the following: ½ cup semi-sweet chocolate chips (preferably cane juice sweetened), ½ cup raisins, or ⅓ cup chopped walnuts.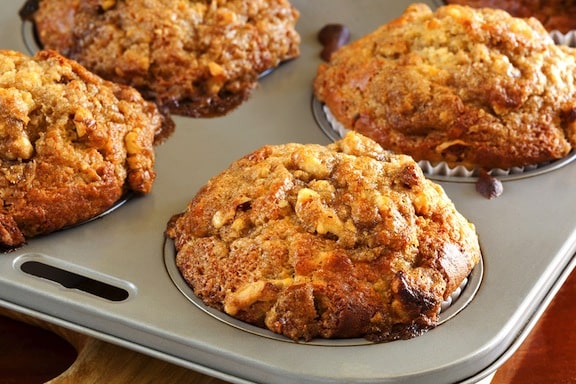 8. Carrot- or Zucchini Raisin Muffins: Add 1 cup finely grated carrot or zucchini and ¼ to ½ cup raisins.
9. Granola Muffins: Add 1 cup of your favorite granola, and optionally, ½ cup chocolate chips for a very hearty muffin.
*This post contains affiliate links. If the product is purchased by linking through this review, VegKitchen receives a modest commission, which helps maintain our site and helps it to continue growing!