Bland in flavor and rather mushy in texture, is no cause for culinary excitement, but it is nonetheless versatile and nourishing. It is available in natural-food stores as well as Indian food shops. 
At about 10 percent protein, millet compares favorably with other grains, especially because its protein is of high quality. It is a particularly a rich source of iron and contains good amounts of potassium, calcium, and other minerals, and a good range of B-complex vitamins. Millet is a highly digestible food. 
Basic Cooked Millet: Use 2 ½ to 3 parts water and one part grain (use the greater portion of water if a porridgelike consistency is desired). Bring the water to a boil, stir in the millet, return to a boil. then lower the heat and simmer, covered for 35 to 40 minutes, or until the water is absorbed and the grains have burst, Millet's flavor is much improved by toasting it lightly before cooking. Use 1 tablespoon oil for every cup of grain. Heat the oil in a heavy skillet. Add the millet and stir to coat the grains with oil. Toast over moderate heat stirring frequently, until the millet is aromatic and lightly browned, about 5 minutes. Proceed to cook as directed above. 
Millet Porridge: Cook as directed above. When the water is absorbed, add ¾ cup nondairy milk per every cup of uncooked millet that was used and cook over low heat until it, too, is absorbed. Serve with sweetener, nuts, and dried fruits. 
Serve millet as a bred of grain for stir-fried Chinese vegetables in place of rice.

Substitute millet for rice in your favorite pudding recipe,

The texture of millet makes it a perfect stuffing for vegetables. It works well in bell peppers, eggplant, and winter squashes.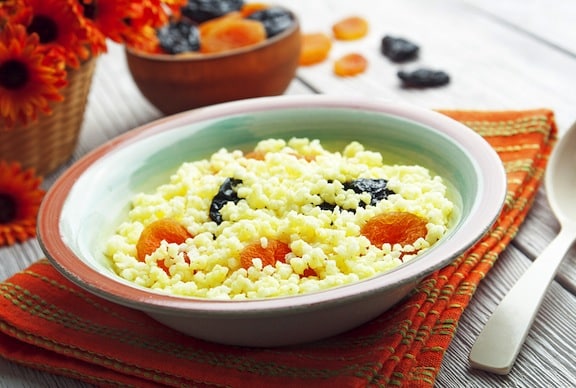 Here are some of VegKitchen's millet recipes:
For lots more features on healthy lifestyle, explore VegKitchen's Healthy Vegan Kitchen page.
Here are more of VegKitchen's Natural Food Guides.