Nutritionally, millet resembles wheat, providing niacin, vitamin B6, and folic acid along with some calcium, iron, potassium, magnesium, and zinc. If you want fluffy, grainy millet, as for this dish, it is essential to leave it alone while cooking. If you want a soft textured millet, however, keep stirring until it is cooked. Contributed by Deborah Gray from 500 Vegan Dishes* (Sellers Publishing, 2011).
Serves: 4
4 tablespoons olive oil
3 garlic cloves, minced
¾ cup millet
2 medium onions, thinly sliced
4 small zucchinis (or 2 medium), thinly sliced
2 green bell peppers, seeded and thinly sliced
½ cup toasted pumpkin seeds
3 tablespoon chopped fresh mint
Zest and juice of 1 lemon
Sea salt and black pepper to taste
For the Tahini-Herb sauce:
½ cup chopped fresh flat-leaf parsley
Juice of 2 lemons
¼ cup water
¼ cup tahini
1 garlic clove, minced
Agave nectar, to taste
Sea salt and black pepper to taste
Heat 2 tablespoons of the oil in a pan, add the garlic and millet, and stir to coat all the grains in oil. Cover with plenty of boiling water and simmer for 20 minutes; drain.
Meanwhile, heat the remaining oil in a separate pan, and add the onions, zucchini, and bell peppers. Cover and cook over a low heat so the vegetables sweat in their own juices until just soft, stirring occasionally.
Make the tahini-herb sauce by combining the ingredients by hand or in a food processor. Adjust the seasoning and sweetness to taste. Set aside. When the millet is cooked, stir in the cooked vegetables, pumpkin seeds, mint, and lemon zest and juice. Season to taste with salt and pepper. Heat through, then serve with the tahini-herb sauce.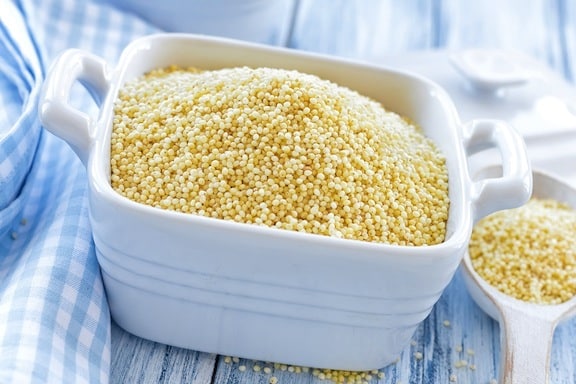 *This post contains affiliate links. If the product is purchased by linking through this review, VegKitchen receives a modest commission, which helps maintain our site and helps it to continue growing!