Once you've got the squash baked, this warming noodle soup with colorful and nutritious veggies comes together quickly. It's as pleasing to the eye as it is to the palate. Use chopsticks for "slurping" the noodles, then enjoy the rest with a spoon. Adapted from Vegan Soups and Hearty Stews for All Seasons.  Photos by Janet at The Taste Space.

Serves: 6
1 small butternut squash, about 1 pound
3 cups water
4 ounces soba (buckwheat), or udon noodles, broken in half
2 teaspoon grated fresh ginger, or to taste
2 no-salt good quality (no MSG) vegetable bouillon cubes
4 to 6 ounces fresh baby spinach, rinsed (see Variation)
1 cup frozen green peas, thawed
3 to 4 scallions, thinly sliced
2 to 3 tablespoons miso (any variety)
Freshly ground pepper to taste
Place the squash in a microwave-safe container. Microwave for 4 minutes, or until it can be easily pierced with a knife but is still firm. Add a minute at a time until done, testing each time.
Or, you can bake the squash in the oven. Wrap the whole squash in foil, and bake at 375 degrees F. for 30 to 40 minutes, or until tender but still firm when pierced. This step can be done ahead of time (see our Vegan Minute video on how to cut and peel squash easily).
Let the squash cool until it can be easily handled. Split it in half, remove the seeds and fibers, and scoop the flesh away from the skin. Cut into bite-sized chunks and set aside until needed.
Bring the water to a rapid simmer in a soup pot. Add the soba and cook until the noodles are al dente.
Add the ginger, bouillon cubes, peas, and diced squash.Cook for 3 to 4 minutes.
Add the spinach and cook just until wilted. Stir in the scallions. Add enough water to give the soup a nice consistency — not too dense, not too brothy. A cup two should do.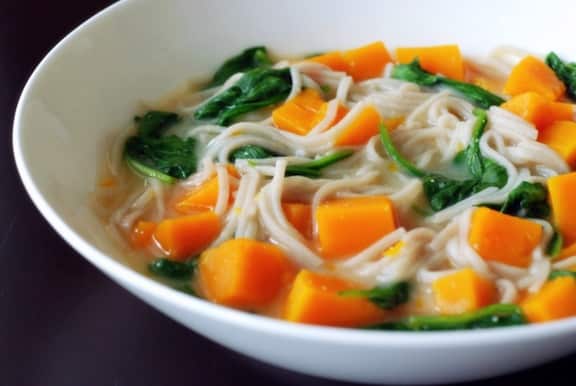 Dissolve the miso in ⅓ cup warm water and stir into the soup, then taste. If you'd like to add more miso, dissolve a small amount in a little warm water before adding. Season with pepper and serve at once.
Variation: Use other tender greens like watercress, baby arugula, chopped baby bok choy, or other Asian greens.