Red beans, broccoli, and tomatoes are enveloped in a gingery miso sauce. It's unusual to give a bean dish an Asian spin, but the balance of colors, textures, and flavors in this dish work very well. Quinoa makes a perfect bed of grain for this dish, though feel free to serve over rice or millet, or on its own in shallow bowls. Photos by Hannah Kaminsky.
Serves: 4 to 6
1 ½ tablespoons olive oil

1 large onion, quartered and thinly sliced

3 to 4 cloves garlic, minced

4 cups bite-sized broccoli florets

2 large ripe tomatoes, diced

3 to 3 ½ cups cooked or two 15- to 16-ounce cans small red beans

2 teaspoons grated fresh or jarred ginger, or more, to taste

2 to 3 tablespoons miso (any variety, though I prefer




mellow white with this), to taste

1 ½ tablespoons arrowroot or cornstarch

2 teaspoons dark sesame oil

2 scallions, thinly sliced

Hot cooked grains (quinoa, brown rice, millet, etc.)
Heat the oil in a large skillet. Sauté the onion over medium heat until golden. Add the garlic and broccoli; sauté, covered, until the broccoli is bright green, 2 to 3 minutes.
Add the tomatoes, beans, and ginger. Simmer over low heat for 10 minutes.
In a small bowl, combine the miso, arrowroot, and about ¾ cup warm water; whisk together until smooth. Pour into the skillet along with the sesame oil. Simmer gently until the liquid has thickened, just another minute or so.
Spread the cooked grain of your choice on a serving platter, then top with the bean and broccoli mixture, allowing a bit of the grain to show around the edges. Sprinkle the scallions over the top and serve at once.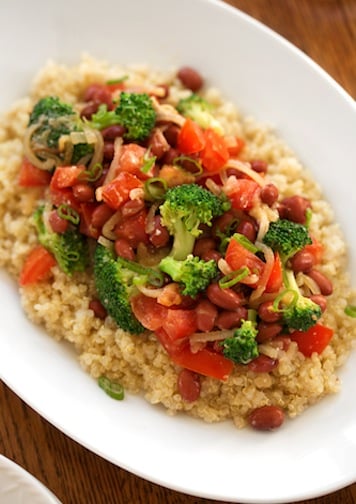 Nutritional Information:
Per Serving (without grains): 231.6 calories; 4.6g fat; 800.3mg sodium; 579.7mg potassium; 36.9g carbs; 12.3g fiber; 1.4g sugar; 9.5g protein