Aromatic and broth, this mushroom-filled, Asian-flavored soup can be enjoyed any time of the year when you can find good bok choy. Generally, bok choy is a spring vegetable, but in some areas the season is extended. This is an excellent way to whet the appetite for a vegetable stir-fry or a simple tofu dish. It's best served the moment it comes off the heat.
Serves: 4 to 6
Total time: 30 to 35 minutes
1 tablespoon dark sesame oil
5 to 6 scallions, thinly sliced, white and green parts divided
2 cloves garlic, minced
32-ounce container low-sodium vegetable broth
¼ cup dry white wine, optional
1 to 2 teaspoons grated fresh ginger, optional
1 to 2 tablespoons reduced-sodium soy sauce, or to taste
3 to 4 cups sliced fresh mixed mushrooms (use 2 or 3 kinds from among
baby bella, oyster, fresh shiitake, enoki, bunapi)
5 to 6 stalks regular bok choy, greens included, thinly sliced,
or 2 to 3 baby bok choy, greens included, thinly sliced
Freshly ground pepper to taste
Heat the oil in a soup pot. Add the white parts of the scallions and garlic, and sauté over low heat until the garlic is golden.
Add the broth mushrooms (if you're using a delicate mushroom like enoki or bunapi, don't add yet), soy sauce, and optional wine and ginger. Bring to a slow boil, then lower the heat, cover, and simmer gently for 10 to 12 minutes, or until you like the texture of the mushrooms.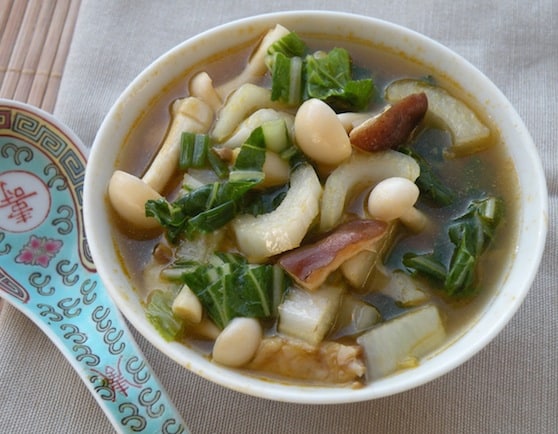 Add any delicate mushrooms you may have set aside, like the enoki and bunapi, along with the reserved sliced green parts of the scallion, and finally, the bok choy. Return to a simmer, then remove from the heat.
Season with plenty of pepper, and taste to see if you'd like more soy sauce (or pass it around). Serve at once.
Nutrition information
Per serving:  Calories: 90;  Total fat: 2g;  Protein: 4g;  Fiber: 4g;  Carbs: 14g;  Sodium: 628mg