Recently I was the very lucky recipient of an array of Miyoko's Creamery cultured nut products —aka vegan cheeses — from the newly launched Miyoko's Kitchen. * Miyoko's Kitchen has generously offered VegKitchen readers $5.00 off all online orders. Use the discount code: VEGKITCHEN. Valid until 12/31/14, aka, through the end of this year. Shown above, Sundried Tomato Garlic.
Miyoko Schinner — author and entrepreneur — is the brains behind these artisan treats.  Let me say up front that these aged nondairy cheeses are mind-blowing; the range of flavors and consistencies is astonishing. I've shared my bounty at dinner parties and it was heartening to see how even non-vegans gravitated to these delicacies, leaving the dairy cheese on the adjacent platter virtually untouched. These nut-based cheeses are truly the answers to the refrain, "But I could never give up cheese!" Well, now you don't have to. Of course, it must be stated that since these products are nut-based, they're not for those with nut allergies.
From the web site, here's how Miyoko started this venture: "Our products were created by Miyoko Schinner, who embarked on a mission to recreate the range of flavors and textures she had once enjoyed from dairy cheeses before becoming vegan. Several years of experimentation culminated in the publication of her groundbreaking book, Artisan Vegan Cheese (Book Publishing Co., 2012), which she hoped would inspire others to make their own.
Despite the success of the book, people frequently requested that she simply make and sell them. She knew that in order to succeed, she would need a passionate business partner with whom to launch and grow the business. She soon met Lisa Shanower, and the two of them embarked on their cheese journey to create Miyoko's Kitchen. The two of them assembled an amazing team of passionate vegans with expertise in different areas, and Miyoko's Kitchen was born!"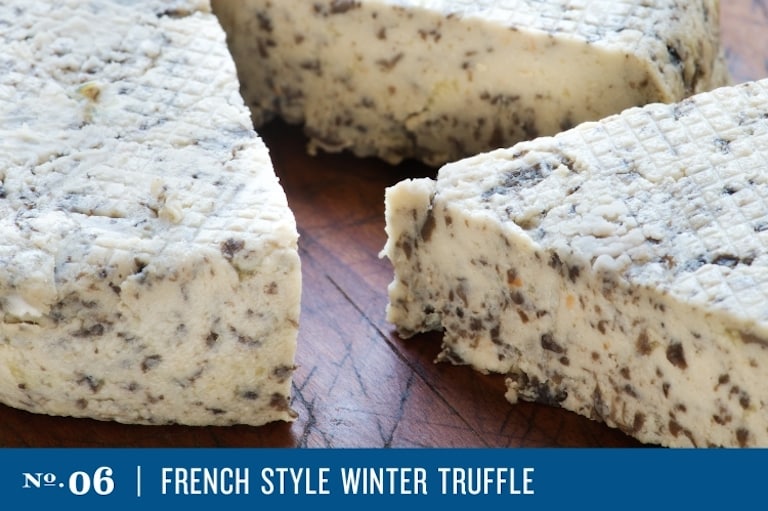 I must admit that I'm among those referenced above who wished someone would magically make these cheeses for me. While they're not particularly difficult, they do require time, and a certain feel for creating them. I'm just too lazy. So I was beyond thrilled to find out that Miyoko had launched this venture. Among the varieties I received in my "Mikyoko's Mix" pack included:
Double Cream Sun-Dried Tomato Garlic
High Sierra Rustic Alpine
Fresh Loire Valley in a Fig Leaf
French-Style Winter Truffle
Aged English Sharp Farmhouse
Double Cream Garlic Herb
Country Style Herbes de Provence
... And there are others. Just from the creativity of the names, you can almost taste the varieties of flavors, textures, and colors. Each cheese round is only 6.5 ounces, but I've gotten as many as 12 wedges out of them because the flavors are so rich and robust. They also freeze very well. For a spontaneous party or holiday platter, plate a couple of varieties of Miyoko's cheeses, some small bunches of grapes and/or sliced pears, and a variety of whole-grain crisp breads. Just add your favorite wine and you've got an instant party — nothing could be easier, and few things are better!
Ordering information from Miyoko's Kitchen:
Miyoko's Creamery cultured nut products are available in a growing number of California retail locations.
Order online: Miyoko's Kitchen is only shipping to mainland U.S at this time. As a brand new company it will only be a matter of time before they're able to add more shipping and retail options throughout the U.S. and internationally.
The last shipping day before Christmas will be Monday, December 22, for arrival on Christmas eve. If you'd like your items to arrive before Christmas, please place your order no later than Monday, December 22 at 12:00 pm (PST). Miyoko's Kitchen ships Mon., Tues., Wed., only via Fed Ex 2-day delivery.
Once again, remember that VegKitchen readers $5.00 off all online orders. Use the discount code: VEGKITCHEN. Valid until 12/31/14, aka, through the end of this year.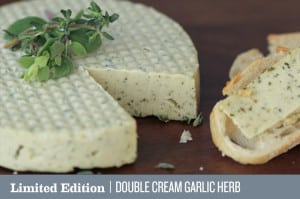 From the bottom of my heart, I thank Miyoko for starting this company to further the message that giving up cheese is something anyone can do. Any step that each of us can take to do away with dairy does more good in this world than can be imagined.
* Full disclosure: VegKitchen received gratis samples of Miyoko's Creamery Cultured Nut Products from Miyoko's Kitchen, but the opinions expressed in this review are our own.