This simple, tasty soup recalls a comfort food from my childhood — minus the poor bird. Chickpeas or baked tofu do the trick, adding substance and flavor to this soothing soup. There's a Yiddish proverb that goes: "Worries go down better with soup." How true! Photo by Theresa Raffetto. Adapted from Vegan Soups and Hearty Stews for All Seasons.*

Serves: 6
1 tablespoon olive oil
2 large celery stalks, finely diced
3 medium carrots, peeled and thinly sliced
2 to 3 cloves garlic, minced
1 small onion, minced
32-ounce container low-sodium vegetable broth
2 cups water
2 teaspoons salt-free all-purpose seasoning blend (like Frontier or Mrs. Dash)
4 to 6 ounces small pasta rings (anellini) or
short noodles (cut vermicelli or angel hair pasta work well)
1 cup cooked or canned (drained and rinsed) chickpeas, coarsely chopped,
or 4 to 6 ounces baked tofu, finely diced (store bought or

homemade

, see note)
Salt and freshly ground pepper to taste
2 to 3 tablespoons chopped fresh dill (see note)
Heat the oil slowly with 3 tablespoons water (or broth) in a large soup pot. Add the celery, carrots, garlic, and onion. Sauté over medium heat for 10 minutes, or until the vegetables begin to soften.
Add the broth, water, and seasoning blend. Bring to a simmer, then cover and simmer gently for 15 minutes, or until the vegetables are tender.
Raise the heat and bring to a rapid simmer. Add the noodles and simmer steadily for 5 to 8 minutes, or until al dente. Add the chickpeas or diced tofu, then season with salt and pepper. If the soup is too crowded, add a cup or two of additional water or broth. Stir in the fresh dill and serve.
Nutrition information
Per serving: Calories: 157;  Total fat: 5g;  Protein: 7g;  Fiber: 2g;  Carbs: 21g;  Sodium: 163mg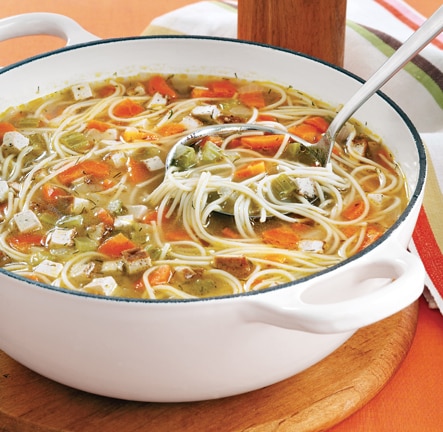 Notes:
- Baked tofu, widely available in natural foods stores as well as some well-stocked supermarkets, is sold in 8-ounce cellophane packages. If you follow the homemade recipe here on VegKitchen, cut the amount of soy sauce or Bragg's in half, as you want it to be less salty for this soup.
- As the soup stands, the noodles quickly absorb the liquid. If there's leftover soup, add a cup or so of additional water before storing and adjust the seasonings. That way the soup can develop more flavor as it stands.
- If you have no fresh dill, use dried. Add a teaspoon or two when adding the broth. Or, you can replace the dill with minced parsley at the end.
*This post contains affiliate links. If the product is purchased by linking through this review, VegKitchen receives a modest commission, which helps maintain our site and helps it to continue growing!