Spinach and mushrooms are nicely flavored with vegan cheddar-style cheese in these delectable wraps. For an easy meal, serve with baked or microwaved potatoes or sweet potatoes and a colorful salad. Adapted from The Vegetarian 5-Ingredient Gourmet. Photos by Rachael Braun.
Serves: 4
8 to 10 ounces white, cremini, or baby
bella mushrooms, cleaned and sliced
10 ounces fresh baby spinach leaves, rinsed
Four 10-inch wraps or burrito-sized flour tortillas
1 cup grated cheddar-style non-dairy cheese (Daiya or Follow Your Heart are good!)
Salsa, optional
Steam the mushrooms in a large skillet with enough water to keep the bottom moist. When tender, add the spinach, in batches if necessary, cover, and cook just until the spinach wilts down. Drain well.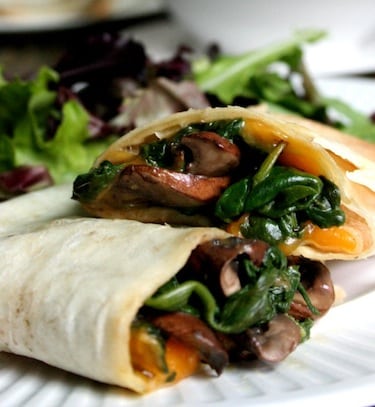 Divide the mushroom-spinach mixture among the wraps, arranging it down the center of each. Sprinkle evenly with the cheese. If desired, add a stripe of salsa, then wrap up snugly.
Briefly heat each wrap individually on a plate in the microwave or in a preheated 400-degree oven, just until heated through, and eat out of hand.